Biography
[
]
Sarah Lucretia Holbrook Tolman was born 21 January 1832 in Weathersfield, Genesee County, New York, United States to Joseph Holbrook (1806-1885) and Nancy Lampson (1804-1842) and died 4 February 1869 Bountiful, Davis County, Utah, United States of unspecified causes. She married Judson Tolman (1826-1916) 12 January 1846 in Nauvoo, Hancock County, Illinois.
Sarah was the daughter of Joseph Holbrook and Nancy Lampson and was named to honor her grandmothers. Her mother died when she was 10 she helped her Aunt Phebe take care of the other 4 children. Her father married Hannah Flint and she was a good step mother. Sarah married Judson Tolman when she was 14.
They came west with Brigham Young (1801-1877) in September 1848. In 1849 they went to settle Tooele, Utah, where Judson A was born. In 1854 they moved to Sessions Settlement which became known as Bountiful. She was the mother of 6 sons and 8 daughters. She died at age 37 from consumption and childbirth. The child born then later died and was buried by her. When she died her husband said, "Her death spread a gloom over the ward for she was much esteemed among a large circle of Friends." At her funeral, her father Joseph Holbrook spoke as well as John Telforo, and Anson Call. "She was full of integrity and never known to swerve from the truth. She died as she lived- faithful.
Zions Camp Participant
[
]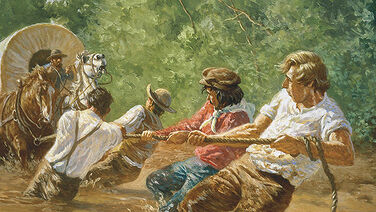 One of the most interesting episodes in the early history of LDS Church was the march of Zion's Camp (1834). The members of the Church in Missouri were being persecuted, and the Prophet Joseph made it a matter of prayer and received a revelation on February 24, 1834. The Lord instructed the Prophet to assemble at least one hundred young and middle-aged men and to go to the land of Zion, or Missouri. (See D&C 130:19–34.)
Zion's Camp, a group of approximately one hundred and fifty men, gathered at Kirtland, Ohio, in the spring of 1834 and marched to Jackson County, Missouri. By the time they reached Missouri, the camp had increased to approximately two hundred men.
Sarah was just a baby travelling in Zions Camp with her parents and two sisters. Her mother presumably did laundry for members of the group.
Marriage and Family
[
]
Children
Offspring of Judson Tolman and Sarah Lucretia Holbrook (1832-1869)
Name
Birth
Death
Joined with

Sarah Margaret Tolman (1847-1847)




Nancy Jane Tolman (1848-1925)




Judson Adonirum Tolman (1850-1915)




Joseph Holbrook Tolman (1851-1935)




Jaren Tolman (1853-1912)




Sarah Lucretia Tolman (1855-1914)




Hannah Ann Tolman (1856-1862)




Lamoni Tolman (1858-1904)




Charlotte Tolman (1859-1860)




Catherine Tolman (1861-1949)




Alice Tolman (1863-1942)




Cyrus Tolman (1865-1942)




Wallace Holbrook Tolman (1867-1935)




Lucretia Tolman (1869-1869)
Siblings
Research Notes
[
]
Birthplace
[
]
The correct spelling for Sarah's place of birth is Wethersfield (not Weathersfield) which is now located in the county of Wyoming in the state of New York. At the time of her birth, Wethersfield could have been in Genesee or Allegany county. The county boundaries changed back and forth and so more research is needed to identify which county it was.
Vital Records
[
]
References
[
]