Jurassic World: Dominion Dominates Fandom Wikis - The Loop
Play Sound
Biography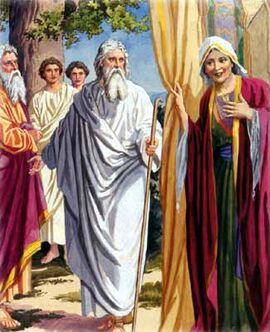 Sarah or Sara (/ˈsɛərə/ SAIR-ə;[1] Hebrew: שָׂרָה‬, Modern Sara, Tiberian Śārā ISO 259-3 Śara; Latin: Sara; Arabic: سارا or سارة Sāra) was the half–sister and wife of Abraham[2] and the mother of Isaac as described in the Hebrew Bible. Her name was originally Sarai (Hebrew: שָׂרָי‬, Sarai). According to Genesis 17:15, God changed her name to Sarah as part of a covenant after Hagar bore Abraham his first son, Ishmael. The Hebrew name Sarah indicates a woman of high rank and is translated as "princess" or "noblewoman".
Sarah means "princess." The wife of Abraham. From Gen. 11:29–17:15 the form of the name used is Sarai (which possibly means "contentions," or more probably is another form of Sarah). She was married to Abraham before he left Ur. In her old age she became the mother of Isaac (Gen. 21:2). She died before her husband and was buried in the cave of Machpelah at Hebron (Gen. 23:2). See also Isa. 51:2; Rom. 4:19; Heb. 11:11; 1 Pet. 3:6.
Death and Burial
The book of Genesis records the death and burial of Abraham's wife in a cave that he purchased from the sons of Heth in the Land of Canaan. Abraham dies and is buried in the same place. (Gen 25)

1 And Sarah was an hundred and seven and twenty years old: these were the years of the life of Sarah.
2 And Sarah died in Kirjath-arba; the same is Hebron in the land of Canaan: and Abraham came to mourn for Sarah, and to weep for her.
19 And after this, Abraham buried Sarah his wife in the cave of the field of Machpelah before Mamre: the same is Hebron in the land of Canaan.
Genesis 23:1-2,19
Marriage and Family
Abraham was a very righteous man, yet on multiple occassions he introduced Sarah as his sister instead of his wife. This has led to some speculation that he had married either a step-sister or niece.
Children
Siblings
Offspring of Terah ben Nahor and unknown parent

Name
Birth
Death
Joined with
Abraham ben Terah

City of Ur

, Mesopotamia

Kirjath-arba

,

Hebron

, Land of Canaan
Sarai, daughter of Terah
Hagar, handmaid of Sarah
Keturah
Haran ben Terah

City of Ur

, Mesopotamia

City of Ur

, Mesopotamia
Nahor ben Terah

City of Ur

, Mesopotamia

City of Ur

, Mesopotamia
Milcah, daughter of Haran
Reumah (?-?)
References
Book of Genesis 9-11
Nahor - Biblical Figure disambiguation
Sarah - LDS Bible Dictionary
Sarah - Wikipedia
Footnotes (including sources)