Jurassic World: Dominion Dominates Fandom Wikis - The Loop
Play Sound
Articles, images
People

Births

 •

Deaths

 •

Baptisms

 •

Marriages

 •

Divorces

 •

Burials

 •

Families

 •

Residents

Daily life

Before 1700

 •

1700-1749

 •

1750-1799

 •

1800-1819

 •

1820-1839

 •

1840-1859

 •

1860-1879

 •

1880-1899

 •

1900-1919

 •

1920-1939

 •

1940-1959

 •

1960-1979

 •

1980-1999

 •

2000-present

Research,
including queries

Smyth County, Virginia links

 •

Birth records

 •

Businesses

 •

Cemeteries

 •

Census data

 •

Census records

 •

Church records

 •

Court records

 •

Death records

 •

Directories

 •

Landowner records

 •

Marriage records

 •

Maps

 •

Military records

 •

Obituaries

 •

Probate records

 •

Queries
Smyth County is a county located in the U.S. state — officially, "Commonwealth" — of Virginia. As of the 2000 census, the population was 33,081. Its county seat is Marion6.
History
[
]
Smyth County was formed on February 23, 1832 from Washington and Wythe counties . The county is named after Alexander Smyth, a general during the War of 1812 who was elected to the state Senate and House of Delegates, and was a Representative to the United States Congress.
Geography
[
]
According to the U.S. Census Bureau, the county has a total area of 1,171 km² (452 mi²). 1,171 km² (452 mi²) of it is land and 1 km² (0 mi²) of it (0.05%) is water.
Demographics
[
]
As of the census² of 2000, there were 33,081 people, 13,493 households, and 9,607 families residing in the county. The population density was 28/km² (73/mi²). There were 15,111 housing units at an average density of 13/km² (33/mi²). The racial makeup of the county was 96.86% White, 1.87% Black or African American, 0.15% Native American, 0.18% Asian, 0.32% from other races, and 0.60% from two or more races. 0.86% of the population were Hispanic or Latino of any race.
There were 13,493 households out of which 29.20% had children under the age of 18 living with them, 55.70% were married couples living together, 11.20% had a female householder with no husband present, and 28.80% were non-families. 26.00% of all households were made up of individuals and 12.50% had someone living alone who was 65 years of age or older. The average household size was 2.37 and the average family size was 2.83.
In the county, the population was spread out with 21.60% under the age of 18, 8.00% from 18 to 24, 28.10% from 25 to 44, 26.00% from 45 to 64, and 16.30% who were 65 years of age or older. The median age was 40 years. For every 100 females there were 93.80 males. For every 100 females age 18 and over, there were 90.50 males.
The median income for a household in the county was $30,083, and the median income for a family was $36,392. Males had a median income of $26,698 versus $19,712 for females. The per capita income for the county was $16,105. About 9.90% of families and 13.30% of the population were below the poverty line, including 15.20% of those under age 18 and 14.00% of those age 65 or over.
Towns
[
]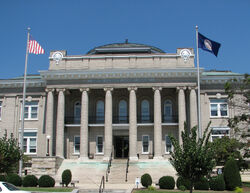 Education
[
]
Public High Schools
[
]
Coordinates: 36°50′N 81°32′W / 36.84, -81.53