Biography
Solomon Angell was born 26 April 1806 in Florence, Oneida County, New York, United States to James Williams Angell (1776-1851) and Phebe Ann Morton (1786-1854) and died 20 September 1881 Leeds, Washington County, Utah, United States of unspecified causes. He married Eunice Clark Young (1809-1879) 13 April 1828 in Providence, Providence County, Rhode Island, United States. He married Lucinda Clark (1822-1904) 5 July 1857 in Salt Lake City, Salt Lake County, Utah, United States. He married Anna Cajia Johanson (1835-1914) 31 October 1863 in Salt Lake City, Salt Lake County, Utah, United States.
He and his family joined the LDS Church in the early 1800s, and following his participation in Zions Camp, he was ordained to the original Quorum of Seventy.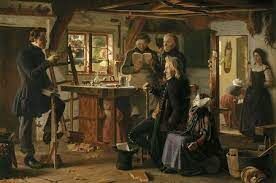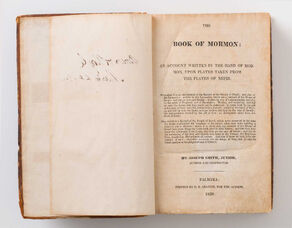 The 1830's saw a great Protestant religious revival sweep across the United States that was called the "Second Great Awakening" and was characterized by much emotional preaching, spiritual and social reform movements and a surge in membership growth for a great many Christian denominations.
This period also saw the rise of a new Church of Christ that was organized in early 1830 by its young prophet-leader, Joseph Smith (1805-1844), and after 1838 was formally named The Church of Jesus Christ of Latter-day Saints. This church group was frequently called the "Mormon Church" or "Latter-day Saints" (LDS) for its belief in a new set of holy scriptures called "The Book of Mormon". For better or worse, this new religion generated a lot of attention in this region.
Missionaries of this church taught that it was not a reform movement or protest movement but a "restoration" of the original church with completeness of the full of doctrine of the gospel of Jesus Christ including the ministering of angels, the restored priesthood, lost scripture, revelations, prophecy, living apostles, the gifts of the spirit and much more. This message had profound impact on many who subsequently left all to follow the Prophet and the Church. In many cases their faith was so strong as to push these early converts to endure many difficult hardships and sacrifices and to eventually journey over a thousand miles westward to settle in the Great Salt Lake Valley. (See also New Religion (LDS 1830).)[1][2]

It is not difficult, then, to understand that Solomon Angell was born into a family with traditional reverence for God. His parents were farmers. Unfortunately, they were not too compatible, a fact which resulted in frequent separations. (His father left home when the atmosphere became too heated.)
Solomon's mother heard two missionaries preaching about a new church. She responded readily to the teachings of these elders, Aaron Lyman and Leonard Rich, and she was baptized by them in mid winter. Following her baptism, she took her family to Kirtland, Ohio. Her son Truman O. (famous LDS Temple Architect) and his wife, both of whom had accepted the gospel, accompanied the family.
Later, her husband, James Williams (named for Roger Williams), joined the Church and went to Kirtland to be reunited with his family. In due time, the Angell family moved to Far West, Missouri, then crossed the Mississippi River to Illinois—first to Quincy, then in 1841 to Commerce, better known as Nauvoo, on to Winter Quarters, and then to their destination, the area that was to become Utah, arriving under the leadership of Brigham Young on September 20, 1848.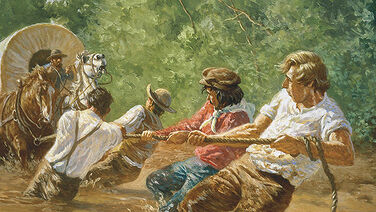 One of the most interesting episodes in the early history of LDS Church was the march of Zion's Camp (1834). The members of the Church in Missouri were being persecuted, and the Prophet Joseph made it a matter of prayer and received a revelation on February 24, 1834. The Lord instructed the Prophet to assemble at least one hundred young and middle-aged men and to go to the land of Zion, or Missouri. (See D&C 130:19–34.)
Zion's Camp, a group of approximately one hundred and fifty men, gathered at Kirtland, Ohio, in the spring of 1834 and marched to Jackson County, Missouri. By the time they reached Missouri, the camp had increased to approximately two hundred men.
LDS Quorum of Seventy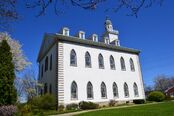 Created by the Mormon Prophet Joseph Smith (1805-1844) in early 1835, the Quorum of Seventy was to act as traveling and presiding ministers for the newly created The Church of Jesus Christ of Latter-day Saints. Many of these men performed notable works for the early church, living near then church headquarters in Kirtland, Ohio. The Quorum of Seventy itself did not meet as a governing body of the church and was not renewed until reorganized by the church in 1976.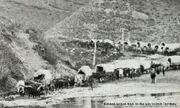 After leading his first historic 1847 Vanguard Company to blaze the trail to the Salt Lake Valley, Brigham Young (1801-1877) and many of the others returned back to Winter Quarters to collect their families and the rest of the church.
This family was numbered with the 1229 pioneers in 397 wagons make the 1,031 mile trek in 86 days (May 26 to Sept 24) and would be amongst the first of hundred plus wagon trains that would make the same journey over the next 24 years.
Ancestry
It is interesting to note that his paternal ancestor, Thomas Angell, came to colonial America on the same boat with Roger Williams in 1631. They were fast friends, and together they settled in Plymouth, Massachusetts, the Puritan colony. Roger Williams was a clergyman of the Church of England, and he disagreed violently with some of the Puritan beliefs, chiefly on the question of religious liberty. So insistent was he on the issue of the separation of church and state that the government banished him and Thomas Angell in 1635.
Soon after the Angell family joined the Church, presumably while they still resided in Providence, Solomon married Eunice Clark Young, whose brother was the grandfather of President Harry S. Truman.
Children
Offspring of Solomon Angell and

Lucinda Clark (1822-1904)

Name
Birth
Death
Joined with

Solomon Angell (1861-1922)
Offspring of Solomon Angell and

Anna Cajia Johanson (1835-1914)

Name
Birth
Death
Joined with

Charles August Angell (1865-1944)




Phoebe Ann Angell (1867-1953)




Adelaide Angell (1870-1896)




Lavinia Angell (1872-1957)
Siblings
#g1: Offspring of James Williams Angell (1776-1851) and Phebe Ann Morton (1786-1854)
Name
Birth
Death
Joined with
Mary Ann Angell (1808-1882)
8 June 1808 North Providence, Providence County, Rhode Island
27 June 1882 Salt Lake City, Salt Lake County, Utah
Brigham Young (1801-1877)
Jemima Angell (1804-1869)
4 October 1804

Camden

, Oneida County, New York, United States
16 July 1869

Wanship

, Summit County, Utah, United States

Valentine W. Young (c1800-1843)




William Stringham


Brigham Young (1801-1877)
Solomon Angell (1806-1881)
26 April 1806

Florence

, Oneida County, New York, United States
20 September 1881

Leeds

, Washington County, Utah, United States

Eunice Clark Young (1809-1879)




Lucinda Clark (1822-1904)




Anna Cajia Johanson (1835-1914)

Hiram Angell (1807-1829)
17 July 1807 Providence, Providence County, Rhode Island
7 September 1829 Providence, Providence County, Rhode Island
Truman Osborn Angell (1810-1887)
5 June 1810 North Providence, Providence County, Rhode Island, United States
16 October 1887 Salt Lake City, Salt Lake County, Utah, United States
Polly Ann Johnson (1813-1876)
Susan Eliza Savage (1825-1893)
Mary Ann Johnson (1836-1906)
Caroline Frances Angell (1825-1908)
3 October 1825 Providence, Providence County, Rhode Island, United States
28 October 1908 Bountiful, Davis County, Utah, United States
George David Varner Davis (1823-1870)
Joseph Holbrook (1806-1885)
References
An Enduring Legacy, Volume Two, p. 356
Footnotes (including sources)