Jurassic World: Dominion Dominates Fandom Wikis - The Loop
Play Sound
Articles, images
People

Births

 •

Deaths

 •

Baptisms

 •

Marriages

 •

Divorces

 •

Burials

 •

Families

 •

Residents

Daily life

Before 1700

 •

1700-1749

 •

1750-1799

 •

1800-1819

 •

1820-1839

 •

1840-1859

 •

1860-1879

 •

1880-1899

 •

1900-1919

 •

1920-1939

 •

1940-1959

 •

1960-1979

 •

1980-1999

 •

2000-present

Research,
including queries

Sonoma County, California links

 •

Birth records

 •

Businesses

 •

Cemeteries

 •

Census data

 •

Census records

 •

Church records

 •

Court records

 •

Death records

 •

Directories

 •

Landowner records

 •

Marriage records

 •

Maps

 •

Military records

 •

Obituaries

 •

Probate records

 •

Queries
Sonoma County

,

California


Seal


Location in the state of California

California's location in the U.S.
Founded
1850
Seat
Santa Rosa
Area
 - Total
 - Land
 - Water

1,768 sq mi (4,579 km²)
1,576 sq mi (4,082 km²)
192 sq mi (497 km²), 10.88%
Population
 - (

2020

)
 - Density

488,863
290/sq mi (112/km²)
Website
www.sonoma-county.org
Sonoma County is on the northwest coast of California, one of the northernmost parts of the greater San Francisco Bay Area, U.S. Its population at the 2020 census was 488,863. Its largest city and county seat is Santa Rosa.
Sonoma is the southwestern county of California's Wine Country region, which also includes Napa, Mendocino, and Lake counties. It has thirteen approved American Viticultural Areas, and over 250 wineries. In 2002 Sonoma County ranked as the thirty-second county in the United States in agricultural production.[1] As early as 1920 Sonoma County was ranked as the eighth most productive U.S county,[2] largely due to the abundance of high quality irrigation water. More than 7.4 million tourists visit each year, spending more than $1 billion in 2006. Sonoma County is the home of Sonoma State University and Santa Rosa Junior College.
In earlier times, Sonoma County was the home to several distinct Native American tribes, who lived within the carrying capacity of the land; by 1850, European settlement had set a new direction that would prove to radically alter the course of land use and resource management of this region. As of 2007, Sonoma County has rich agricultural land, albeit now largely divided between two nearly monocultural uses: grapes and pasturage. The voters have twice approved an open space initiative[3] that has provided considerable funding for public acquisition of natural areas, which has preserved forested areas, coastal habitat, and other open space.
Geography and environment
[
]

According to the U.S. Census Bureau, Sonoma County has a total area of 1,768 sq mi (4,580 km²). 1,576 sq mi (4,082 km²) is land, and 192 sq mi (498 km²) (10.88%) is water. Adjacent counties are Marin (to the south), Mendocino (to the north), Lake (northeast), Napa (to the east) and Solano (to the southeast).
The county lies in the North Coast Ranges of northwestern California. Its ranges include the Mayacamas and the Sonoma Mountains, the southern peak of the latter being the prominent landform, Sears Point. The highest peak in the Mayacamas within the county is Hood Mountain. It has uncommon occurrences of pygmy forest, dominated by Mendocino Cypress. The highest peak of the Sonoma Mountains is Sonoma Mountain itself, which boasts two significant public access properties: Jack London State Historic Park and Fairfield Osborn Preserve.
Distinct habitat areas within the county include oak woodland, redwood Forest, Northern coastal scrub, grassland, marshland, oak savanna and riparian woodland. The California oak woodland in the upper Yulupa Creek and Spring Creek watersheds in Annadel State Park is a relatively undisturbed ecosystem with considerable biodiversity. These forested areas have been characterized as some of the best examples of such woodlands.[4] An unusual characteristic of these forests is the high content of undisturbed prehistoric bunch grass understory, testifying to the absence of historic grazing or other agriculture.
Trees of the oak woodland habitat include Pacific Madrone, Douglas fir, Coast live oak, Garry oak and California laurel. Common understory plants are toyon, poison oak, and at the fringes Coast silk-tassel.
Threatened/endangered species
[
]
A number of endangered plants and animals are found in Sonoma County including the California clapper rail, Salt Marsh Harvest Mouse, Northern Red-legged Frog, Sacramento splittail, California freshwater shrimp, Showy Indian clover and Hickman's potentilla.
Species of special local concern include the California Tiger Salamander and some endangered plants, including Burke's Goldfields (Lasthenia burkei), Sebastopol Meadowfoam (Limnanthes vinculans), and Sonoma Sunshine or Baker's Stickyseed (Blennosperma bakeri).
Endangered species that are endemic to Sonoma County include Sebastopol Meadowfoam, Sonoma Sunshine, and Pitkin Marsh lily, Lilium pardalinum subsp Pitkinense.
The Sonoma County Water Agency has had a Fisheries Enhancement Program since 1996. Its website says [1]:
"The primary focus of the FEP is to enhance habitat for three salmonids: Steelhead, Chinook salmon, and Coho salmon. These three species are listed as threatened under the U.S. Endangered Species Act. The California Department of Fish and Game considers the Coho salmon endangered."
Ocean, bays, rivers and streams
[
]
Sonoma County is bounded on the west by the Pacific Ocean, and has 76 miles of coastline. The major coastal hydrographic features are Bodega Bay, the mouth of the Russian River, and the mouth of the Gualala River, at the border with Mendocino County.
Six of the county's nine cities, from Healdsburg south through Santa Rosa to Rohnert Park and Cotati, are in the Santa Rosa Plain. The northern Plain drains to the Russian River, or a tributary; the southern Plain drains to the Russian River via the Laguna de Santa Rosa.
Russian River
[
]
Much of central and northern Sonoma County is in the watershed of the Russian River and its tributaries. The river rises in the coastal mountains of Mendocino County, north of the city of Ukiah, and flows into Lake Mendocino, a major flood control reservoir. The Russian flows south from the lake through Mendocino to Sonoma County, paralleled by Highway 101. It turns west at Healdsburg, receiving water from Lake Sonoma via Dry Creek, and empties into the Pacific Ocean at Jenner.
Laguna de Santa Rosa
[
]
The Laguna de Santa Rosa is the largest tributary of the Russian River. It is 14 miles (23 km) long, running north from Cotati to the Russian River near Forestville. Its flood plain is more than 7,500 acres (30 km²). It drains a 254 square mile (658 km²) watershed, including most of the Santa Rosa Plain.
The Laguna de Santa Rosa Foundation says [2],
"The Laguna de Santa Rosa is Sonoma County's richest area of wildlife habitat, and the most biologically diverse region of Sonoma County (itself the second-most biologically diverse county in California). ... It is a unique ecological system covering more than 30,000 acres (120 km²) and comprised of a mosaic of creeks, open water, perennial marshes, seasonal wetlands, riparian forests, oak woodlands and grasslands. ... As the receiving water of a watershed where most of the county's human population lives, it is a landscape feature of critical importance to Sonoma County's water quality, flood control, and biodiversity."
The Laguna's largest tributary is Santa Rosa Creek, which runs through Santa Rosa. Its major tributaries are Brush Creek, Mark West Creek, Matanzas Creek, Spring Creek and Piner Creek.
Other water bodies
[
]
The southwestern boundary with Marin County runs from the mouth of Americano Creek at Bodega Bay, to the northwestern corner of San Pablo Bay. The Petaluma River, Tolay Creek, and Sonoma Creek enter the bay at the county's southernmost tip. The intertidal zone where they join the bay is the vast Napa Sonoma Marsh.
Americano Creek, the Petaluma River, Tolay Creek, and Sonoma Creek are the principal streams draining the southern portion of the county. The Sonoma Valley is drained by Sonoma Creek, whose major tributaries are Yulupa Creek, Graham Creek, Calabazas Creek, Schell Creek and Carriger Creek; Arroyo Seco Creek is tributary to Schell Creek.
Lakes and reservoirs in the county include Lake Sonoma, Tolay Lake, and Fountaingrove Lake.
History
[
]
The Pomo, Coast Miwok and Wappo peoples were the earliest human settlers of Sonoma County, between 5000 to 8000 BC, effectively living within the natural carrying capacity of the land. Spaniards, Russians, and other Europeans claimed and settled in the county from the late 16th to mid 19th century, seeking timber, fur, and farmland. Sonoma was one of California's original counties, created at the time of statehood in 1850. It contains many historical monuments.
The Mission San Francisco Solano, founded in 1823 as the last and northernmost of 21 California missions, is in the present City of Sonoma, at the northern end of El Camino Real. El Presidio de Sonoma, or Sonoma Barracks (part of Spain's Fourth Military District), was established in 1836 by Comandante General Mariano Guadalupe Vallejo. His duties included keeping an eye on the Russian traders at Fort Ross, secularizing the Mission, maintaining cooperation with the Native Americans of the entire region, and doling out the lands for large estates and ranches. The City of Sonoma was the site of the Bear Flag Revolt in 1846.
Seven distinct nations have claimed Sonoma County from 1579 to the present:
St. George Cross of England, June 1579, voyage of the Golden Hind under Captain Francis Drake at Bodega Bay (exact location disputed)

Spanish Empire, 1602, by sea, voyage of the San Agustin under Vizcaino. October 1775, the Sonora at Bodega Bay, under Lt. Juan Francisco de la Bodega y Quadra until 1821, when Mexico gained Independence from Spain

Russian-American Company, by Ivan Alexandrovich Kuskov, the founder of Fort Ross and, from 1812 to 1821, its colonial administrator. Note: There is an overlap of rule with the Mexican Empire (next item), until the Russians sold Fort Ross in 1841 to John Sutter, before leaving the area in 1842

Mexican Empire,

24 August

1821, Mexico under Emperor Agustin Iturbide (October 1822, probable time new flag raised in California) until 1823

Mexican Republic, 1823 until June 1846 at Sonoma

Bear Flag of the California Republic, June 1846, at Sonoma until

9 July

1846

United States of America/California, 9 July 1846
Etymology
[
]
According to the book California Place Names, "The name of the Indian tribe is mentioned in baptismal records of 1815 as Chucuines o Sonomas, by Chamisso in 1816 as Sonomi, and repeatedly in Mission records of the following years." [5]
According to the Coast Miwok and the Pomo tribes that lived in the region, Sonoma translates "valley of the moon" or "many moons". Their legends detail this as a land where the moon nestled, hence the names Sonoma Valley and The Valley of the Moon. (May,Indian Country) This translation was first recorded in an 1850 report by General Mariano Guadalupe Vallejo to the California Legislature. (Hanna, p. 311). Jack London popularized it in his 1913 novel The Valley of the Moon
In the native languages there is also a constantly recurring ending tso-noma, from tso, the earth; and noma, village; hence tsonoma, 'earth village'.[6] Other sources say Sonoma comes from the Patwin tribes west of the Sacramento River, and their Wintu word for "nose". Per California place names, "the name is doubtless derived from a Patwin word for 'nose', which Padre Arroyo (Vocabularies, p. 22) gives as sonom (Suisun)."
Bowman(CFQ 5:300-302 [1946]) theorizes that Spaniards found an Indian chief with a prominent protuberance and applied the nickname of Chief Nose to the village and the territory (cf. Alfred L. Kroeber, AAE 29:354 [1932]). Beeler believes the name applied originally to a nose-shaped geographic feature (WF 13:268-72 [1954])[5]
Demographics
[
]
At the 2000 census², there were 458,614 people, 172,403 households, and 112,406 families in Sonoma County. The population density was 291/sq mi (112/km²). There were 183,153 housing units at an average density of 116/sq mi (45/km²).
The racial makeup was 81.60% White, 1.42% Black or African American, 1.18% Native American, 3.07% Asian, 0.20% Pacific Islander, 8.44% of other races, and 4.09% of two or more races. 17.34% of the population were Hispanic or Latino of any race. 80.4% spoke English and 13.8% Spanish as their first language.
Of the 172,403 households, 50.30% were married couples living together, 34.80% were non-families, and 10.40% had a female householder with no husband present. 31.90% had children under the age of 18 living with them, 25.70% were individuals, and 10.00% were 65 years of age or older living alone. The average household size was 2.60, and the average family size was 3.12.
The median age was 38 years. 24.50% were under 18, 8.80% from 18 to 24, 29.20% from 25 to 44, 24.90% from 45 to 64, and 12.60% were 65 years of age or older. For every 100 females there were 97 males. For every 100 females age 18 and over, there were 94 males.
The median household income was $53,076, and the median family income was $61,921. Males had a median income of $42,035, females $32,022. The per capita income for the county was $25,724. About 4.70% of families and 8.10% of the population were below the poverty line, including 8.40% of those under age 18 and 5.70% of those age 65 or over.
Government
[
]
Sonoma County's governing board and legislative body is a five-member Board of Supervisors [3]. Supervisors are elected by district [4], at the Consolidated Primary Election, and serve for four years. The Supervisors also sit as directors of several local jurisdictions, such as the Water Agency [5], and Agricultural Preservation & Open Space District [6].
Three current Supervisors were elected in 2004: Valerie Brown (1st District), Tim Smith (3rd District), and Mike Reilly (5th District); and two in 2006: Mike Kerns (2nd District) and Paul L. Kelley (4th District). Supervisor Brown is the current Chairwoman. The Supervisors appoint the members of 59 boards, commissions, and committees [7].
The County Administrator [8] is the county's chief executive officer, reporting to the Board of Supervisors manage the county's departments.; the current Administrator is Bob Deis.
Cities and towns
[
]
Sonoma County has nine incorporated cities, including the Town of Windsor. In order of population, they are: Santa Rosa (156,200), Petaluma (56,727), Rohnert Park (42,236), Windsor (22,744), Healdsburg (10,722), Sonoma (9,128), Sebastopol (7,774), Cloverdale (7,636), and Cotati (6,471).
| Unincorporated Communities A-C | Unicorporated Communities D-G | Unincorporated Communities H-N | Unincorporated Communities O-Z |
| --- | --- | --- | --- |
| | | | |
Places of interest
[
]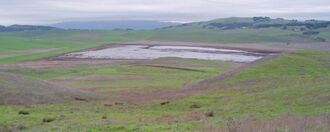 Transportation infrastructure
[
]
Major highways
[
]
U.S. Highway 101
U.S. Route 101 is the westernmost Federal highway in the U.S.A. Running north/south through the states of California, Oregon, and Washington, it generally parallels the coastline from the Mexican to the Canadian border. Highway 101 links seven of the county's nine incorporated cities: Cloverdale, Healdsburg, Windsor, Santa Rosa, Rohnert Park, Cotati, and Petaluma. It is a freeway for almost its entire length within the county, except for the section south of Petaluma.
The four-lane highway has been heavily congested during peak commute hours for many years. The section between Santa Rosa and Rohnert Park was recently widened to six lanes; and widening within Santa Rosa, between Highway 12 and Steele Lane, is in progress in 2007. The two new inner lanes are designated for vehicles with two or more occupants during commute hours.
California State Route 1
Within Sonoma County, Highway 1 follows the coastline from the Mendocino County border, at the mouth of the Gualala River, to the Marin County border, at the Estero Americano (Americano Creek), east of Bodega Bay.

California State Route 12
Highway 12 runs eastward from its intersection with Highway 116 in Sebastopol to Santa Rosa. There it turns south through the Valley of the Moon to Sonoma, then east into Napa County. The four-lane freeway section within Santa Rosa, between Fulton Road and Farmers Lane, is called the Luther Burbank Memorial Highway. That section, especially where it crosses Highway 101, is severely congested during peak commute hours.
The two-lane Bodega Highway runs west from the intersection of Highways 12 and 116 in Sebastopol, through the coastal hills to its intersection with Highway 1, east of Bodega Bay. East of Santa Rosa, Highway 12 is also called Sonoma Highway; and east of Sonoma, Carneros Highway.

California State Route 37
Highway 37 connects Highway 101 at Novato, in Marin County, with Interstate 80 in Vallejo, in Solano County, at the top of San Pablo Bay. Within Sonoma County, it is also called Sears Point Road.

California State Route 116
Highway 116 is a winding, two-lane rural route that runs from Jenner, at the mouth of the Russian River on the coast, southeast to Arnold Drive near Sonoma. It is also called Guerneville Highway, between Guerneville and Forestville; Gravenstein Highway North, between Forestville and Sebastopol; and Gravenstein Highway South, between Sebastopol and Stony Point Road, west of Rohnert Park. East of Petaluma it is Lakeville Highway, then Stage Gulch Road.

California State Route 128
The northernmost section of Highway 128 is a two-lane rural route running southeast from Highway 101 at Geyserville, north of Healdsburg, through the Alexander Valley into Napa County.
Public transportation
[
]
Sonoma County Transit is the countywide transit operator, providing service to all cities in Sonoma County.
Santa Rosa Transit provides bus routes in and near the city of Santa Rosa.
The cities of Healdsburg and Petaluma also provide their own local bus service.
Golden Gate Transit connects Santa Rosa and points south with Marin County and San Francisco.
Mendocino Transit Authority runs north from Santa Rosa to Ukiah (via US 101) and to the coast (via California Routes 12 and 1).
Sonoma-Marin Area Rail Transit/SMART [9] is a proposed commuter rail system between Larkspur in Marin County and Cloverdale in Sonoma. A sales tax surcharge measure to finance it narrowly failed in the 2006 election, and the SMART directors are considering a new measure sometime in 2008.
Airports
[
]
The Charles M. Schulz - Sonoma County Airport[10] is at 2290 Airport Boulevard, west of Highway 101, between Santa Rosa and Windsor. Its main runway is 5,115 feet (1559 m) long and 150 feet (46 m) wide, and can accommodate planes up to 95,000 pounds (43,000 kg) maximum gross take off weight. It offers fuel, major maintenance, hangar space, and tie-downs for local and transient aircraft. Horizon Air, of Seattle, Washington, began regular daily commercial flights from the Charles M. Schulz Airport to Los Angeles and Seattle March 21, 2007. Horizon is flying a 74-seat, Bombardier Q400 turboprop plane. There had been no commercial air service since United Express ceased flying to San Francisco and Los Angeles in 2001. The County has agreed to use $500,000 in federal funds to subsidize Horizon's flights for the first six months. Sponsored by the Santa Rosa Chamber of Commerce, and Redwood Credit Union (formerly the Sonoma County Employees credit union), local businesses have spent more than $500,000 to buy tickets in advance. If revenues levels are unsatisfactory, Horizon can terminate service after 45 days.
Sonoma Valley Airport[10]
Economy
[
]
Forbes Magazine ranked the Santa Rosa metropolitan area--essentially the entire county--185th out of 200, on its 2007 list of Best Places For Business And Careers [11]. It was second on the list five years before. Sonoma County was downgraded because of an increase in the cost of doing business, and reduced job growth--both blamed on increases in the cost of housing.
Viticulture
[
]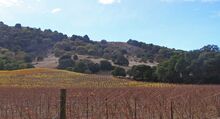 See main article: Sonoma County AVA
Winemaking—both the growing of the grapes and their vinting—is an important part of the economic and cultural life of Sonoma County. In 2004, growers harvested 165,783 tons (150,396 tonnes) of wine grapes worth US$310 million. In 2006 the Sonoma County grape harvest amounted to over 185,000 tons, exceeding Napa County's harvest by over 30 percent.[11] About 80 percent of non-pasture agricultural land in the county is for growing wine grapes—59,973 acres (242.70 km²) of vineyards, with over 1100 growers. The most common varieties planted are Chardonnay, Cabernet Sauvignon, and Pinot Noir, though the area is also known for its Merlot and Zinfandel.
Sonoma County is home to more than 250 wineries with eleven distinct and two shared American Viticultural Areas, including the Sonoma Valley, Russian River Valley, Alexander Valley, Bennett Valley and Dry Creek Valley, the last of which is known for the production of high-quality zinfandels.
Tourism
[
]
See main article: Wine Country
In addition, the county's tolerant political environment have made the Guerneville area along the Russian River the home of a number of gay and lesbian resorts, which have catered to the San Francisco LGBT weekend-getaway community since the 1970s.
Politics
[
]
For most of the 20th century, Sonoma County was a Republican stronghold in presidential elections. From 1880 until 1988, the only Democrats to carry Sonoma were Winfield Scott Hancock in 1880, Grover Cleveland in 1888 and 1892, Woodrow Wilson in 1912, Franklin D. Roosevelt in 1932 and 1936, and Lyndon B. Johnson in 1964.[12] Like the rest of the Bay Area, it has since become a Democratic stronghold.
The last Republican to win a majority in the county was Ronald Reagan in 1984, and the last Republican to represent a significant part of the county in Congress was Representative Donald H. Clausen, who left office in January 1983.
United States presidential election results for Sonoma County, California

[13]
Year

Republican

Democratic

Third party

No. 
%
No. 
%
No. 
%

2020

61,825
23.04%
199,938
74.52%
6,554
2.44%

2016

51,408
22.03%
160,435
68.77%
21,460
9.20%

2012

54,784
25.26%
153,942
70.99%
8,139
3.75%

2008

55,127
24.04%
168,888
73.64%
5,336
2.33%

2004

68,204
30.90%
148,261
67.18%
4,225
1.91%

2000

63,529
32.25%
117,295
59.54%
16,182
8.21%

1996

53,555
29.54%
100,738
55.57%
27,004
14.89%

1992

47,619
24.09%
104,334
52.78%
45,738
23.14%

1988

67,725
41.91%
91,262
56.48%
2,596
1.61%

1984

76,447
51.08%
71,295
47.64%
1,915
1.28%

1980

60,722
48.20%
45,596
36.19%
19,667
15.61%

1976

50,555
47.72%
50,353
47.52%
5,044
4.76%

1972

57,697
54.72%
43,746
41.49%
3,991
3.79%

1968

38,088
48.79%
33,587
43.03%
6,384
8.18%

1964

27,677
38.37%
44,354
61.49%
105
0.15%

1960

34,641
54.10%
29,147
45.52%
244
0.38%

1956

33,659
61.92%
20,616
37.92%
86
0.16%

1952

35,605
66.09%
17,675
32.81%
594
1.10%

1948

22,077
55.21%
16,026
40.08%
1,881
4.70%

1944

16,309
50.38%
15,949
49.27%
111
0.34%

1940

16,819
51.94%
15,230
47.04%
330
1.02%

1936

11,185
38.96%
17,273
60.17%
248
0.86%

1932

9,161
35.69%
15,686
61.11%
822
3.20%

1928

12,891
59.71%
8,506
39.40%
194
0.90%

1924

9,535
56.00%
1,767
10.38%
5,726
33.63%

1920

10,377
66.90%
4,070
26.24%
1,065
6.87%

1916

9,733
50.37%
8,377
43.35%
1,214
6.28%

1912

32
0.23%
6,500
45.78%
7,667
54.00%

1908

5,427
57.50%
3,168
33.56%
844
8.94%

1904

5,269
61.64%
2,816
32.94%
463
5.42%

1900

4,381
54.04%
3,517
43.38%
209
2.58%

1896

4,053
51.86%
3,595
46.00%
168
2.15%

1892

3,016
43.40%
3,451
49.65%
483
6.95%

1888

3,293
46.97%
3,394
48.41%
324
4.62%

1884

3,044
49.42%
2,944
47.79%
172
2.79%

1880

2,290
45.44%
2,628
52.14%
122
2.42%
Education
[
]
Elementary and secondary
[
]
Higher education
[
]
Chapman University (Petaluma Campus)
Empire College, Santa Rosa
Golden Gate University (Rohnert Park Campus)
New College of California (Santa Rosa Campus)
Sonoma State University, Rohnert Park
University of San Francisco (Santa Rosa Campus)
Western Institute of Science and Health (Rohnert Park campus)
The educational system of Sonoma County is similar to other counties in California.
Library system
[
]
The Sonoma County Library System offers a Central Library in downtown Santa Rosa, as well as ten branch libraries, two rural stations and bookmobile service. The Library is also a member of the North Bay Cooperative Library System. More than half of Sonoma County's residents have library cards. They borrow over 2.5 million items a year. Expert reference librarians answer nearly half a million reference questions annually for individuals, businesses and government agencies. They offer instruction in the use of Library resources in such fields as genealogy, grant writing, and use of the Internet. During a typical school year over 750 classes, more than half the county total, either visit a library or are visited by a children's librarian. The Library operates an adult literacy program, training volunteers to tutor individuals who lack basic reading ability. Computer terminals are made available for free Internet access.
Law enforcement and crime
[
]
The Sonoma County Sheriff's Department is the law enforcement agency for the unincorporated area of the county. It also contracts to provide the police forces of the City of Sonoma, and the Town of Windsor. The department has more than 1,000 employees, including more than 275 Deputy Sheriffs, in four Bureaus. More than 300 Correctional Officers and staff work in two jail facilities, with a total daily population of nearly 1,200 inmates. [12]. Police shootings in 2007 have led to calls for an independent civilian police review board. [14].
Film locations
[
]
see main article Film locations in Sonoma County, California
Due to the varied scenery in Sonoma County and proximity to the city of San Francisco, a large number of motion pictures have been filmed using venues within the county. Some of the earliest U.S. filmaking occurred in Sonoma County such as the 1914 production 1914 Salomy Jane and Bronco Billy Anderson produced in 1915. Many of these films are classics in American cinematography such as the 1947 film The Farmer's Daughter, starring Joseph Cotten and Loretta Young and Alfred Hitchcock's The Birds produced in 1963, which film was also partially filmed in adjacent Marin County. Many other more modern classics have used Sonoma County as a filming venue, including the 1990 production of the Flatliners and the 1992 film Basic Instinct. A few of the other representative films produced partially in Sonoma County are:
The town of Sonoma in southeast Sonoma County hosts the annual Sonoma Valley Film Festival, a nationally recognized event.
See also
[
]
References
[
]
Further reading
[
]
California gazetteer. Wilmington: American Historical Publications, 1985.
Finley, Ernest L. History of Sonoma County, California: Its People and Its Resources. Santa Rosa: Press Democrat Pub. Co., 1937
Gille, Frank H. ed. The encyclopedia of California, 1999. St. Clair Shores: Somerset Publishers, Inc., 1999.
Gregory, Thomas Jefferson. History of Sonoma County, California, with Biographical Sketches of the Leading Men and Women of the County, Who Have Been Identified with Its Growth and Development from the Early Days to the Present Time. Los Angeles: Historic record company, 1911.
Gudde, Erwin Gustav. California place names: the origin and etymology of current geographical names. Berkeley: University of California Press, 1998.
Hanna, Phil Townsend. The dictionary of California land names. Los Angeles: The Automobile Club of Southern California, 1951.
Hansen, Harvey J. Wild Oats in Eden; Sonoma County in the 19th Century. Santa Rosa, 1962.
Historical Atlas Maps of Sonoma County, California. Oakland: Thos. H. Thompson & Co., 1877.
May, James, 'Why Graton...' Indian Country - Legend Valley of the Moon, 2003.
Taber, George M. Judgment of Paris: California vs. France and the historic 1976 Paris Tasting that Revolutionized Wine. NY: Scribner, 2005.
Thompson, Robert A. Historical and descriptive sketch of Sonoma County, California. Philadelphia: L.H. Everts & Co., 1877.
Tuomey, Honoria. History of Sonoma County, California. Chicago: S.J. Clarke Pub. Co., 1926.
External links
[
]
Municipalities and communities of

Sonoma County, California

,

United States

Cities

Cloverdale | Cotati | Healdsburg | Petaluma | Rohnert Park | Santa Rosa | Sebastopol | Sonoma

Incorporated towns
CDPs

Bodega Bay | Boyes Hot Springs | El Verano | Eldridge | Fetters Hot Springs-Agua Caliente | Forestville | Glen Ellen | Graton | Guerneville | Larkfield-Wikiup | Monte Rio | Occidental | Roseland | Temelec

Unincorporated communities

Asti | Camp Meeker | Cazadero | Duncans Mills | Freestone | Geyserville | Jenner | Kenwood | Mark West | Mark West Springs | Penngrove | Rio Nido | Sea Ranch
 State of

California

Topics

Climate

Delegations

Deserts

Districts

Ecology

Elections

Environment

Geography

Government

Protected areas

Sports

Symbols

Transportation

Visitor attractions

Index of California-related articles

Society

Culture

Crime

Demographics

Economy

Education

Politics

Regions

Antelope Valley

Cascade Range

Central California

Central Coast

Central Valley

Channel Islands

Coachella Valley

Coastal California

Conejo Valley

Cucamonga Valley

Death Valley

East County (SD)

Eastern California

Emerald Triangle

Gold Country

Great Basin

Greater Sacramento

Inland Empire

Klamath Basin

Lake Tahoe

Los Angeles Basin

Lost Coast

Metropolitan Fresno

Mojave

Mountain Empire

North Bay (SF)

North Coast

North County (SD)

Northern California

Owens Valley

Oxnard Plain

Pomona Valley

Sacramento Valley

San Diego–Tijuana

San Francisco Peninsula

San Gabriel Valley

San Joaquin Valley

Santa Clara Valley

Santa Clara River Valley

Santa Clarita Valley

Shasta Cascade

Sierra Nevada

Silicon Valley

South Bay (SF)

South Bay (SD)

South Coast

Southern Border Region

Tri-Valley

Upstate California

Victor Valley

Wine Country

Yuba-Sutter Area

Metro areas
Micro areas

Bishop

Clearlake

Crescent City

Eureka

–

Arcata

–

Fortuna

Phoenix Lake-Cedar Ridge

Truckee

–

Grass Valley

Ukiah

Counties
Coordinates: 38°31′N 122°56′W / 38.51, -122.93