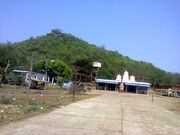 Sri Lakshmi Narasimha Swamy Temple Garlavoddu
[
]
The Lord LakShmi Narasimha Swamy Temle is one of the famous temple in Khammam district. The temple was founded by late Sri Maddigunta Tirupataiah, and presentlly it is under the management sri Thirpataiah's son Sri Maddigunta Narasiha Rao who has been recognized as Founder Trustee by the Andhra pradesh  Endowments Department.
The said Temple located at garlavoddu village which is 45 K.Ms from Khammam Distict head quarters and nearest town is Kothagudem Town, which is 35 K.Ms distance away. In this Temple there are 3 temples complex, the main temple dedicated to Sri LakShmi Narasimha Swamy, and other temples dedicated to Goddess peddamma talli, and goddess Amdaallaamma talli respectively. The Temple has A big muKha Mantapam which is 60X60Ft, in measurement . In khammam District it is the big one. The Temple daily opens at 6.00A.M and closes at 1.00 P.M. Again it opens at 4.30 P.M. and closes at *.00P.M. The Saturday is the Special day as such on that day the temple remains open till 3.00P.M. in morning session. there are offering various poojas in this temple and a prescibed fee would be collected from the devotees as their choice. The details of the various poojas and fees particulars are shown in under given picture. The rates may be changed as per decision of the Trust Board from time to time.
Temple History
[
]
The Temple History also curious one. The Devotee Sri Maddigunta Tirupataiah after got experience miracles of Lord Nagendraswamy as well as Lord Lakshmi narasimha Swamy he dedicated his life in Lord lakshmi Narasimha services. He constructed the Temple in the year 1963 and did all poojas andcother services with his own hands till 1976. After that the  as temple  administration came under Endowment Act purview , Sri Thirupataiah had been managed the Temple as Founder till 1998 till his demise .  After his death his son Sri Maddigunta Narasimha Rao has been recognised as "Founder Trustee " , and since 2000 to till date the  temple affairs has been managing by Sri Maddigunta Narasimha Rao who is profounder of Manavuism and founder of S S M Ashramam i.e Surya Savarnika Manavu Ashramam . This is only Ashram in India which has been established on coming "manu ". name.
The Founder Trustee of the temple i.e Sri Maddigunta Narasimha Rao also got experienced the miracles of Lord Lakshmi Narasimha as well as Lord Nagendra swamy.  The details of the said miracles  may be seen above given video . So by the experiences of Founders of the Temple as well as other devotees it has been proved The Garlavoddu Lakshmi Narasimha Swamy is a powerful god and lord miracles are amazing one.