We're Getting Mutants in the MCU - The Loop
Play Sound
ENCAMPMENT MALL MEMORIAL

[

]
St. George, Utah Pioneers of 1861-62 : Encampment Mall Memorial at Dixie State University, St. George, Utah.
List compiled by Roberta Blake Barnum for the Dixie College, Encampment Mall Memorial which today lies at the center of campus and marks the sport were this pioneer company first camped when arriving to settle St. George, Utah, Washington County, Utah in 1861-62.
Dixie Mission Call
[
]
In the October 1861 general conference of The Church of Jesus Christ of Latter-day Saints held in Salt Lake City, President Brigham Young called three hundred men and their families to go south and establish a town to be called St. George. Most of these pioneers embarked from new settlements across the territory of Utah. This group was called to augment a group of 38 families sent 4 years earlier to found the original "Cotton Mission" at Washington, Utah.
Roberta Barnum
[
]
Roberta Blake Barnum (1929-2010) - loved family history work doing research, submitting over 100,000 names to LDS Temples all over the world, and serving over 18 years in LDS temples. She published Saint George, Utah Original Pioneers from which 1,100 names appear on plaques in the Encampment Mall, a standing monument on the Dixie State College Campus dedicated to the first settlers of St. George, Utah. [1]
The List
[
]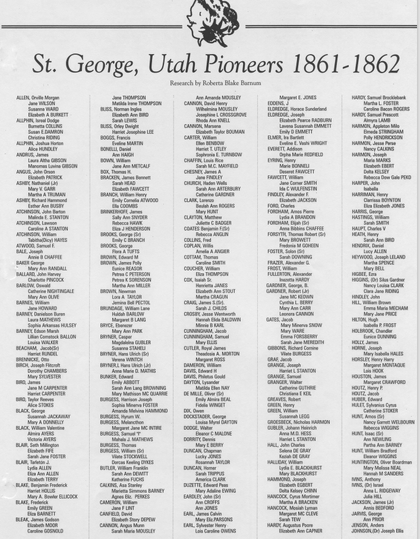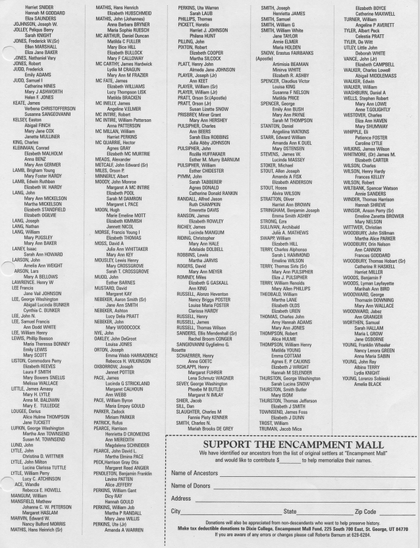 ALLEN, Orville Morgan

Jane WILSON
Susanna WARD
Elizabeth A BURKETT

ANGUS, John Orson

Elizabeth PATRICK

ASHBY, Nathaniel Jr.

Martha ASHBY (Aka: Martha Ann Truman)

ATCHINSON, John Barton

Malinda E STANTON

ATCHINSON, Lawson

Caroline A STANTON

ATCHINSON, William

Tabitha (Dicy) HAYES

ATWOOD, Samuel F.
BALE, Joseph

Annie B CHAFFEE

BALLARD, John Harvey

Charlotte Pincock

BARNES, William

Jane Howard

BARNES, Danielson Buren

Larua Mathews
Sophia Arakansas Hulsey

BARNEY, Edson Marsh

Lillian Commstock Ballon
Louisa Walker

BEACHAM, Jacob SR

Harriet Rundel

BRENNICKE, Otto
BIRCH, Joseph Flitcroft

Dorothy Chambers
Mary Sylvester

BIRD, James

Jane M Carpenter
Harriet Carpenter

BIRD, Taylor Reeves

ALice Stokes

BLACK, George

Susannah Jackaway
Mary A Donnelly

BLACK, William Valentine

Almira AYERS
Victoria AYERS

BLAIR, Seth Millington

Elizabeth FIFE
Sarah Jane FOSTER

BLAIR, Tarleton J

Lydia ALLEN
Eliza Ann ALLEN
Elizabeth TERRY

BLAKE, Benjamin Frederick

Mary A Bowler ELLICOCK

BLEAK, James Godson

Caroline GOSNOLD

BLISS, Norman Ingles

Elizabeth Ann BIRD
Sarah LEWIS

BLISS, Orley Dwight

Harriet Josephine LEE

BOGGS, Francis

Eveline MARTIN

BONELLI, Daniel

Ann HAIGH

BROWN, William

Jane Ann METCALF

BOX, Thomas H.
BRINKERHOFF, James

Sally Ann Snyder
Rebecca HAWK
Eliza J HENDERSON

BROOKS, George

Flora A TUFTS

BROWN, Edward M
BROWN, James Polly

Eunice REASOR
Petrea C PETERSON
Petrea K SORENSON
Martha Ann MILLER

BROWN, Newman

Lora A TAYLOR
Jemima Bell PECTOL

BRUDAGE, Willam Lane

Huldah BARLOW
Margaret B LANG

BRYCE, Ebenezer (First Settler of

Bryce Canyon National Park

)

BRYNER, Casper

Magdaleina GUBLER
Susanna STAHELI

BRYNER, Hans Ulrich (Sr)

Verena WINTCH

BRNER, L Hans Ulrich (Jr)

Anna Marie D. MATHIS

BUNKER, Edward

Emily ABBOTT
Sarah Ann Lang BROWNING
Mary Mathison MC QUARRIE

BURGESS, Hyrum W.
BURGESS, Melancthon

Margaret Jane MC INTIRE

BURGESS, Samuel "I"

Mahala J MATHEWS

BURGESS, Thomas
BURGESS, William (Sr)

Vilate STOCKWELL
Dorcas Keeling DYKES

BUTLER, William Franklin

Sarah Ann DEWITT
Katherine FUCHS

CALKINS, Asa Stanley - Just returned from being president of the LDS British Mission (1858-1860)

CAMERON, William

Jane FLINT

CANNON, Angus Munn

Sarah Maria MOUSLEY
Ann Amanada MOUSLEY

CANNON, David Henry

Wilhelmina MOUSLEY - Heroine of the Sego Flower Story : A TV episode of Death Valley Days: "Sego Lilies" (1953) tells the story of Wilhemina and her husband David being called to leave Salt Lake City to settle in the Dixie territory (that would become St. George, UT).
Rhoda Ann KNELL (born 1858) / md 1877.

CANNON Marsena

Elizabeth Taylor BOUMAN

CARTER, WIlliam

Ellen BENBOW
Harriet T. UTLEY
Sophronia E. TURNBOW

CHAFFIN, Louis Rice

Sarah M.C. MAYFIELD

CHESNEY, James A

Jane FINDLEY

CHURCH, Haden Wells

Sarah Ann ARTERBURY
Catherine GARDNER

CLARK, Lorenzo

Beulah Ann ROGERS
Mary HUNT

CLAYTON, Matthew

Juliette C BADGER

COATES, Benjamin F. (Sr)

Rebecca ANGLIN

COLLINS, Fred
COPLAN, Willis

Amelia A ANGIER

COUCHER, William

Eliza THOMPSON

COX, Isaiah Sr.

Henrietta JANES
Elizabeth Ann STOUT
Martha CRAGUN

CRAIG, James S. (Sr)

Sarah J. CHILDS

CROSBY, Jesse Wentworth

Minnie B KARL

CUNNINGHAM, Jacob
CUNNINGHAM, Samuel

Mary ELLIS

CUTLER, Royal James

Theadosia A MORTON
Margaret ROSS

DAMERON, William
DAVIS, Edward H
DAVIS, Philetus Gould
DAYTON, Lysander

Matilda Ellen NAY

DE MILLE, Oliver (SR)

Emily Almira BEAL
Fidelia WINGET

DIX, Owen
DOCKSTADER, George

Louisa Myrel DAYTON

DODGE, Walter

Eleanor C MALONE

DORRITY, Dennis

Mary E BERRY

DUNCAN, Chapman

Lucky JONES
Rosannah TAYLOR

DUNCAN, Homer

Sarah Trippus
America CLARK

DUZETTE, Edward Peas

Mary Adaeline EWING

EARDLEY, John (Sr)

Ann CROFFS
Ann JONES

EARL, James Calvin

Mary Eliz. PARSONS

EDDENS, J.
ELDREDGE, Horace Sunderland
ELDREDGE, Joseph

Elizabeth Pearce RADBURN
Lavens Susannah EMMETT
Emily D EMMETT

ELMER, Ira Bartlett

Eveline E. Vashi WRIGHT

EVERETT, Addison

Orpha Maria REDFIELD

EYRING, Henry - a recent convert from Germany (1855), grandfather to Camilla Eyring (1894-1987) (wife of LDS Church President Spencer Woolley Kimball (1895-1985)), her brother Henry Eyring (1901-1981) (the famous scientist) and his son Henry B. Eyring, LDS Church Apostle.

Deseret FAWCETT

FAWCETT, William

Jane Corner SMITH
Ida C WULFENSTIN

FINDLEY, Alexander F.

Elizabeth JACKSON

FORD, Charles
FORDHAM, Amos Pierre

Lydia A BRANDON

FORDHAM, Elijah (Sr) - Veteran of Zion's Camp (1834) and famous recipient of healing miracle in 1839 from the prophet Joseph Smith.

Ann Bibbins CHAFFEE

FOSTER, Solon (Sr) - Veteran of Zion's Camp (1834).

FRAZER, Alexander G.
FROST, William
FULLERTON, Alexander

Inezetta HARDY

GARDNER, George B.
GATES, Jacob - Veteran Zion's Camp (1834), Original Member of LDS 1st Presidents of the Seventy,

Mary WARE

Sarah Jane MEREDITH

GIBBONS, Richard Cornine

Vilate BURGESS

GRAF, Jacob
GRANGE, Samuel
GRANGER, Walter

Catherine GUTHRIE
Chrisitana E KEIL

GREAVES, Robert
GREEN, Henry
GREEN, William

Susannah LEGG

GROESBECK, Nicholas HARMON
GUBLER, Johann Heinrich

Anna M.D. HESS
Harriet L STANTON

HALL, John Charles

Selena DE GRAY
Keziah DE GRAY

HALLIDAY, William

Lydia E. BLACKHURST
Mary BLACKHURST

HAMMOND, Joseph

Elizabeth EGBERT
Delta Kelsey CHINN

HANCOCK, Cyrus Mortimer

Margaret MC CLEVE
Sarah TEW

HARDY, Augustus Poore

Elizabeth Ann CAPNER

HARDY, Samuel Brocklebank

Martha L. FOSTER
Caroline Bacon ROGERS

HARDY, Samuel Prescott

Almyra LAMB

HARMON, Appleton Milo

Elmeda STRINGHAM
Polly HENDRICKSON

HARMON, Jesse Perse

Nancy CAUONS

HARMON, Joseph

Maria MARKS
Elizabeth EBERT
Delta KELSEY
Rebecca Dow Gale PEICO

HARPER, John

Isabella

HARRIMAN, Henry - veteran of Zion's Camp (1834) and longest serving General Authority of the Church (56 years), and namesake settler of

Fort Harriman, Utah

. His family stayed here for 25 years before moving on.

HARRIS, George
HASTINGS, William

Sarah SMITH

HAUPT, Charles V
HEATH, Henry

Sarah Ann BIRD

HENDRIX, Daniel

Lucy ALLEN

HEYWOOD, Joseph Leoland

Martha SPENCE
Mary BELL

HIGBEE, Ezra
HIGGINS, (Dr) Silus Gardner

Nancy Louisa CLARK
Clara Jane RIDING

HINDLEY, John
HILL, William Brown

Emma Maria MECHAM
Mary Jane PRICE

HILTON, Hugh

Isabella P. FROST

HOLBROOK, Chandler

Eunice DUNNING

HOLLY, James
HORNE, Joseph

Mary Isabella HALES

HORSLEY, Henry Harry

Margaret MONTAQUE
Lois HOOK

HOUSTON, James

Margaret CRAWFORD

HOUTZ, Henry P.
HOUTZ, Jacob
HUBER, Edward
HULET, Sylvanius Cyrus

Catherine STOKER

HUNT, Amos (Sr)

Nancy Garrett WELBOURN

HUNT, Isaac (Sr)

Ann NEWLING
Partha Ann BARNEY

HUNT, WIlliam Bradford

Eleanor WIGGINS

HUNTINGTON, Oliver Boardman

Mary Melixxa NEAL
Hannah M SANDERS

IVINS, Anthony
IVINS, (Dr) Israel

Anna L. RIDGEWAY
Julia Hill

JACKSON, James (Jr)

Annis BEDFORD

JARVIS, George

Ann PRIOR

JENSON, Anders
JOHNSON, (Dr) Joseph Ellis

Harriet SNIDER
Hannah M GODDARD
Eliza SAUNDERS

JOHNSON, Joseph W.
JOLLEY, Peliqus Berry

Sarah KNIGHT

JONES, Frederick W. (Sr)

Ellen MARSHALL
Eliza Jan BAKER

JONES, Nathaniel Very
JONES, Robert
JUDD, Frederick

Emily ADAMS

JUDD, Samuel I

Mary J ASHWORTH (sic- daughter in law)
Helen F. JONES

KEATE, James

Varbana CHRISTOFFERSON
Susanna SANGEOVANNI

KELSEY, Eastos

Abigail FINCH
Mary Jane COX
Janette MULLINER

KING, Charles

KLEINMANN, Conrad
Elizabeth, MALHOLM
Anna BENZ
Mary Ann GERMER

LAMB, Brigham Young

Mary Foster HARDY

LAMB, Edwin Ruthben

Elizabeth W HARDY

LANG, John

Mary Ann MICKELSON
Martha MICKELSON
Elizabeth STANDFIELD
Elizabeth OGILVE

LANG, Joseph
LANG, Nathan
LANG, William

Mary PUBSLEY
Mary Ann Baker

LANEY, Isaac

Sarah Ann HOWARD

LARSON, John

Amelia Ann Weight

LARSON, Lars

Mary A BELLOWS

LAWRENCE, Henry W.
LEE, Francis

Jane Vall JOHNSON

LEE, George Washington

Abigail Lucinda BUNKER
Cynthia C. BUNKER

LEE, John N.
LEE, Samuel Francis

Ann Dodd WHITE

LEE, William Henry
LEWIS, Phillip Benson

Maria Theressa BONNEY
Emily LEWIS
Mary SCOTT

LISTON, Commodore Perry

Elizabeth REEVES
Laura F. SMITH
Mary Bowers SNELLIS
Melissa WALLACE

LITTLE, James Amasy

Mary H. LYTLE
Anna M. BALDWIN
Mary E. TULLEDGE

LOUGEE, Darius

Alice Holme THOMPSON
Jane TUCKETT

LUFKIN, George Washington

Martha Ann TOWNSEND
Susan M. TOWNSEND

LUND, John
LYTLE, John

Christina D. WITTNER

LYTLE, John Milton

Lucins Clarissa TUTTLE

LYTLE, William Perry

Lucy C. ATCHINSON

MACE, Wandle

Rebecca E. HOWELL

MANSFIELD, Mathew

Johanna C.W. PETERSON
Margaret HASLAM

MARVIN, Edward W.

Nancy Bulford MORRIS

MATHIS, Hans Henrich (Sr)
MATHIS, Hans Henrich

Elizabeth HUBSCHMED

MATHIS, John (Johannes)

Anna Barbaara BRYNER
Maria Sophia RESUCH

MC ARTHUR, Daniel Duncan

Martila C FULLER

Mary Bice HILL

Mary F CALLOWAY

MC CARTHY, James Hendrick

Lydia M CRAGUN
Mary Ann M FRAZIER

MC FATE, James

Elizabeth WILLIAMS
Lucy Thompson LISK

MC INELLY, James

Angeline VELMER

MC INTIRE, Robert
MC INTIRE, William Patterson

Anna PATTERSON

MC MILLIAN, William

Harriet PERKINS

MC QUARRIE, Hector

Agnes GRAY
Elizabeth MC MURTHRIE

MEADS, Alexander
METCALF, John Edward (Sr)
MILES, Orson P.
MINNERLY, Albert
MOODY, John Monroe

Margaret A MC INTIRE
Elizabeth POOL
Sarah M DAMRON
Margaret L. PACE

MOON, Hugh

Marie Emeline MOTT
Elizabeth KIMMISH
Jannett NICOL

MORSE, Francis Young I

ElizabethTHOMAS

MOSS, David A

Julia Ann WHITTAKER
Mary Ann KEY

MOUSLEY, Lewis Henry

Mary CROSSGROVE
Sarah T CROSSGROVE

MUGEL, John

Esther BARNES

MUSTARD, David

Margaret KAY

NEBEKER, Aaron Smith (Sr)

Jane Ann SMITH

NEBEKER, Ashton

Lucy Delia PRATT

NEBERKER, John

Mary WOODCOCK

NYE, John
OAKLEY, John DeGroot

Louisa Jones

ORTON, Joseph

Emma Webb HARRADENCE
Rebecca H. WILKINSON

OXBORROW, Joseph

Janet POTTER

PACE, James

Lucinda G STRICKLAND
Margaret CALHOUN
Ann WEBB

PACE, William Bryon

Maria Eempey GOULD

PARKER, Zedick

Miriam PARKER

PATRICK, Rufus
PEARCE, Harrison

Henrietta D CROMEENS
Ann MEREDITH
Magdalena SCHNECKER

PEARCE, John David L.

Martha ELmina PACE

PECK, Harrison Gray Otis

Margaret REad ANGIER

PERKINS, William Gant

Dicy RAY
Hannah GOULD

PERKINS, William Job

Martha P RANDALL
Mary Jane WILLIS

PERKINS, Ute (Jr)

Amanda A WARREN

PERKINS, Ute Warren

Sarah LAUB

PHILLIPS, Thomas

PICKETT, Horatio
Harriet J. JOHNSON
Philhena HUNT

PILLING, John
PIXTON, Robert

Elizabeth Cooper
Martha SILCOCK

PLATT, Henry John

Almeda Jane JOHNSON

PLAYER, Joseph (Jr0

Ann KEET

PLAYER, WIlliam (Sr)
PLAYER, William (Jr)
PRATT, Orson Sr (Apostle)
PRISBREY, Miner Grant

Mary Ann HERSHEY

PULSIPHER, Charles

Ann BEERS
Sarah Eliza ROBBINS
Julia Abby JOHNSON

PULSIPHER, William

Ester CHIDESTER

PYMM, John

Sarah TABBERER
Agnes DONALD
Catherine Donald RANKIN

RANADALL, Alfred Jason

Ruth CHAMPKIN
Emerette DAVIS

RANSON, James

Elizabeth ROWLEY

RIDING, Christopher

Mary Ann HALE
Adalaide DOLBELL

ROBBINS, Lewis

Martha JARVIS

ROGERS, David

Mary Ann MEYER

ROMNEY, Miles

Ann KING

RUSSELL, Alonso Heventon

Nancy Briggs FOSTER
Louisa Maria FOSTER
Clarissa HARDY

RUSSELL, Henry
RUSSELL, James
RUSSELL, Thomas Wilson
SANDERS, Ellis Mendenhall (Sr)

Ranchel Broom CONGER

SANGIOVANNI, Gyglielimo G. Rosette
SCHAERRER, Henry

Anne GOETC

SCHLAPPL, Henry

Margaret FUHRER
Lena Schmutz WAGNER

SEVEY, George Washington

Phoebe M. BUTLER
Margaret N IMLAY

SHIER, Jacob
SILL, Dan
SLAUGHTER, Charles M.

Fannie Pisty KENNER

SMITH, Charles N.

Mariah Brooks DE GREY

SMITH, Joseph

Henrietta JAMES

SMITH, Samuel
SMITH, William B
SMITH, William White

Jane TAYLOR
Annie ELMER
Maria HOLDEN

SNOW, Erastus FAIRBANKS (Apostle) (Longtime leaders of the saints in Dixie Utah.

SPENCER, Claudius Victor

Louisa KING
Susanna F NELSON
Matilda PRICE

SPENCER, George

Emily Ann Bush
Mary Ann PAYNE
Sarah M THOMPSON

STANTON, Daniel

Angelina WATKINS

STARR, Edward William

Amanda Ann K DUEL
Mary OSTENSEN

STEVENS, James W

Lucinda MASSEY

STOKER, Michael
STOUT, Alan Joseph

Amanda A FISK
Elizabeth ANDERSON

STOUT, Hosea

Alvira WILSON

STRATTON, Oliver

Harriet Ann BROWN

STRINGHAM, Benjamin Joseph

Emma Smith ASHBY

STRONG, Ezra

SULLIVAN, Archibald
Julie A. MATHEWS

SWAPP, WIlliam

Elizabeth HILL

TERRY, Charles Alphonso

Sarah I. HAMMOND
Emeline WILSON

TERRY, Thomas Sirla (Sr)

Mary Ann PULSIPHER
Eliza J. PULSIPHER

TERRY, William Renolds

Mary Allen PHILLIPS

THEOBALD, William

Martha LANE
Elizabeth OLDS
Elizabeth UREN

THOMAS, Charles John

Amy Hannah ADAMS
Mary Ann JONES

THOMPSON, Robert

Alice HULME

THOMPSON, William Henry

Emma COTTAM

Elizabeth J. WRIGHT

Hannah M SELENDER

THURSTON, George Washington

Sarah Lucine SNOW

THURSTON, Smith Butler

Mary ISOM

THURSTON, Thomas Jefferson

Elizabeth J. SMITH

TOWNSEND, James Foss

Elizabeth J DUNN

TROST, William
TRUMAN, Jacob Mica

Elizabeth BOYCE
Catherine MAXWELL

TURNER, William

Angeline P AVERETT

TYLER, Albert Puck

Celestia PRATT

TYLER, De Witt
UTLEY, Little John

Deborah WHITE

VANCE, John (Jr)

Elizabeth CAMPBELL

WALKER, Charles Lowell
Abigail MIDDELMASS
WALKER, Edwin
WALKER, William
WASHBURN, Daniel A
WELLS, Stephen Robert

Mary Ann LOWE
Anne T. GOLIGHTLY

WESTOVER, Charles

Eliza Ann HAVEN
Mary SHUMWAY

WILKINS, James Wilson
WHITMORE, (Dr) James M

Elizabeth CARTER

WILSON, Charles
WILSON, Henry Hardy

Frances KELLEY

WILSON, Robert
WILTBANK, Spencer Watson

Annie SANDERS

WINDER, Thomas Harrison

Hannah SHREVE

WINSOR Anson Perry (Sr)

Emeline Zanetta BROWER
Mary NELSON

WITTWER, Christian
WOODBURY, John Stillman

Martha Alice PARKER

WOODBURY, Orin Nelson

Ann CANNON
Frances GODDARD

WOODBURY, Thomas Hobart (Sr)

Catherine R HASKELL
Harriet MILLER

WOODS, Benjamin F.
WOODS, Lyman Lafayette

Marihah Ann BIRD

WOODWARD, George

Thomazis DOWNING
Mary Ann WALLACE

WOODWARD, Jabez

Ann GRANGER

WORTHEN, Samuel

Sarah HALLAM
Maria L. GROW
Jane OSBORNE

YOUNG, Franklin Wheeler

Nancy Lenora GREEN
Anna Maria SABIN

YOUNG, John Ray

Albina TERRY
Lydia KNIGHT

YOUNG, Lorenzo Sabinski

Amelia BLACK
See Also
[
]
References
[
]
REFERENCES:
St. George, Utah Original Pioneers December 1, 1861 - May 10, 1869 Histories & Pictures : Book by Roberta Blake Barnum & Paul Peine
Devoted Empire Builders (Pioneers of St. George) : Book by A. K. Hafen