Susannah Haddon Sargeant Colby was born 1610 in Lincolnshire, England and died 8 July 1689 Salisbury, Essex County, Massachusetts of unspecified causes. She married Anthony Colby (1605-1660) 1632 in Boston, Suffolk County, Massachusetts.
Marriage & Family
1630 Winshiop Fleet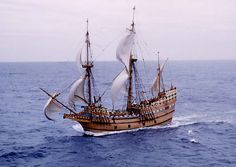 He was a passenger on the English Winthrop Fleet, which sailed under direction from Gov. John Winthrop from England in 1630 bound for to settle Massachusetts Bay Colony, landing first at Salem. The ship arrived safe at Massachusetts Bay. But nearly 200 of the 600 passengers onboard died in the first year there.

Anthony Colby (1605-1660) and Jarrett Haddon were friends before they sailed for Massachusetts. Many researchers construct that Susannah Haddon was Jarrett's sister, that she had gone before them with her husband; that he had been fairly prosperous before he died; that Susannah was left a reasonably well-off widow; that her marriage to her brother's friend was an advantage to all of them. Susannah had been attending the same church that the other widows and single women of Boston attended. That is where she met her friend, Margaret, who married her brother, Jarrett
From research and analysis of the children of Susannah and from Jarrett Haddon and their lack of intermarriage; the theory that they were siblings is further validated.
Probably married in Boston circa 1632, all children born in 1633 or after in Massachusetts:
Children
Offspring of Anthony Colby and Susannah Haddon (1610-1689)
Name
Birth
Death
Joined with
John Colby (1633-1674)
9 August 1633 Boston, Suffolk County, Massachusetts
11 February 1674 Amesbury, Essex County, Massachusetts
Frances Hoyt (1636-1720)

Sarah Colby (1635-aft1721)
1635 Cambridge, Middlesex County, Massachusetts
1721
Orlando Bagley (1623-1663)


Child Colby (1636-1636)



Samuel Colby (1638-1716)
10 August 1638 Salisbury, Essex County, Massachusetts
1716 Amesbury, Essex County, Massachusetts
Elizabeth Sargent (1648-1736)

Isaac Colby (1640-1682)
6 July 1640 Salisbury, Essex County, Massachusetts
1684 Amesbury, Essex County, Massachusetts
Martha Parratt (1649-1730)


Rebecca Colby (1643-)



Mary Colby (1647-1716)
19 September 1647 Salisbury, Essex County, Massachusetts
27 September 1716 Amesbury, Essex County, Massachusetts
William Sargent (1645-1712)


Thomas Colby (1651-)
Siblings
Residences
Footnotes (including sources)