Articles, images

Archaeology

 •

Landmarks

 •

Migrations and settlements

 •

Photo gallery

 •

Prehistory

 •

Timeline

People

Births

 •

Deaths

 •

Baptisms

 •

Marriages

 •

Divorces

 •

Burials

 •

Families

 •

Residents

Daily life

Before 1401

 •

1401-1450

 •

1451-1500

 •

1501-1550

 •

1551-1600

 •

1601-1650

 •

1651-1700

 •

1701-1750

 •

1751-1800

 •

1801-1850

 •

1851-1900

 •

1901-1950

 •

1951-2000

 •

2001-present

Research,
including
queries

Thanjavur district links

 •

Birth records

 •

Businesses

 •

Cemeteries

 •

Census data

 •

Church records

 •

Court records

 •

Death records

 •

Directories

 •

Landowner records

 •

Marriage records

 •

Maps

 •

Military records

 •

Obituaries

 •

Probate records

 •

Queries
Thanjavur district




தஞ்சாவூர் மாவட்டம்

—  

District

  —

Tanjavur Big temple in the background

Location in Tamil Nadu

Coordinates:

10°47′8.16″N

79°8′24.36″E

 / 

10.7856

,

79.1401

Coordinates:

10°47′8.16″N

79°8′24.36″E

 / 

10.7856

,

79.1401

Country
 India
State
Tamil Nadu
Metro
Municipal Corporations
Thanjavur
Municipalities
Town Panchayats
Headquarters

Thanjavur

Talukas

Kumbakonam

,

Orathanadu

,

Papanasam

,

Pattukkottai

,

Peravurani

,

Thanjavur

,

Thiruvaiyaru

,

Thiruvidaimarudur

.
Government
 • Collector
K. Baskaran ,

IAS

Time zone

IST

(UTC+5:30)

PIN

613xxx

Telephone code
04362
ISO 3166 code
[[ISO 3166-2:IN|]]

Vehicle registration

TN-49,TN-68[1]

IUCN category

Central location:
Website
thanjavur.nic.in
Thanjavur District is one of the 32 districts of the state of Tamil Nadu, in southeastern India. Its headquarters is Thanjavur.
Geography
[
]
The district is located at 10°05′N 79°10′E / 10.08, 79.16 in Central Tamil Nadu bounded on the northeast by Nagapattinam District, on the east by Tiruvarur District, on the south by the Palk Strait, of Bay of Bengal on the west by Pudukkottai District, and on the north by the river Kollidam, across which lie Tiruchirappalli and Perambalur districts.
Demographics
[
]
According to the 2011 census Thanjavur district has a population of 2,402,781,[2] roughly equal to the nation of Kuwait[3] or the US state of New Mexico.[4] This gives it a ranking of 185th in India (out of a total of 640).[2] The district has a population density of 691 inhabitants per square kilometre (1,790 /sq mi) .[2] Its population growth rate over the decade 2001-2011 was 8.42%.[2] Thanjavur has a sex ratio of 1031 females for every 1000 males,[2] and a literacy rate of 82.72%.[2]
 

Rank

Taluk

Pop.



Thanjavur


Kumbakonam


Kumbakonam

1

Thanjavur

Thanjavur taluk

290,724
2

Kumbakonam

Kumbakonam taluk

167,098
3

Pattukkottai

Pattukkottai taluk

65,553
4

Adiramapattinam

Patukkottai taluk

27,657
5

Peravurani

Peravurani taluk

21,035
6

Papanasam

Papanasam taluk

16,397
7

Madukkur

Pattukkottai taluk

15,436
8

Thiruvaiyaru

Thiruvaiyaru taluk

14,535
9

Vallam

Thanjavur taluk

14,495
10

Ayyampettai (Thanjavur district)

Papanasam taluk

14,202
Economy
[
]
Agriculture
[
]
This district lies at the Kaveri delta region, the most fertile region in the state.[5] The district is the main rice producing region in the state and hence known as the Rice Bowl of Tamil Nadu.[6] Kaveri River and its tributaries irrigate the district. Apart from paddy, farmers here grow coconut and sugarcane and it is the largest producer of coconut in Tamil Nadu.
Tourism
[
]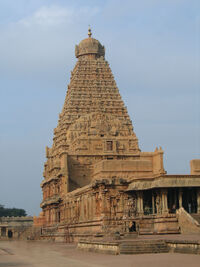 Brihadeeswara Temple, built by the Cholas and a UNESCO World Heritage Site is located at Thanjavur. The green paddy fields and the Kaveri river provide for picturesque spots in the district. Airavateswara temple near Kumbakonam is also a UNESCO declared World Heritage site and another major tourist attraction in the district.
Flora
[
]
Thanjavur flora were explored and studied by Dr. Ragupathy in 1992.[7]
See also
[
]
Thanjavur

Chola Nadu

Kumbakonam

Temples of Kumbakonam
References
[
]
External links
[
]

Wikimedia Commons has media related to:
Tiruchirappalli district

Ariyalur district

Nagapattinam district
Pudukkottai district

Thiruvarur district

     
Thanjavur district

Palk Strait
 State

of

Tamil Nadu

Topics

Cinema

Cuisine

Economy

Government

Language

Literature

Music

People

Politics

Temples

Wildlife

Tourism

State symbols
Districts

Ariyalur

Thanjavur

Tiruppur

Major cities

Coimbatore

Erode

Madurai

Salem

Tiruchirapalli

Tirunelveli

Tiruppur

Tuticorin

Vellore

Protected
areas

Biosphere reserves

Agasthyamalai Biosphere Reserve

Gulf of Mannar Biosphere Reserve

Nilgiri Biosphere Reserve

National parks

Guindy National Park

Gulf of Mannar Marine National Park

Indira Gandhi National Park

Mudumalai National Park

Mukurthi National Park

Palani Hills National Park

Wildlife sanctuaries

Grizzled Squirrel Wildlife Sanctuary

Kanyakumari Wildlife Sanctuary

Point Calimere Wildlife and Bird Sanctuary

Sathyamangalam Wildlife Sanctuary

Vallanadu Wildlife Sanctuary

Bird sanctuaries

Chitrangudi

Kanjirankulam

Karaivetti

Karikili

Koothankulam

Melaselvanur - Kilaselvanur

Pulicat Lake

Udayamarthandapuram

Vaduvur

Vedanthangal

Vellode

Vettangudi

Tiger reserves

Anaimalai Tiger Reserve

Kalakkad Mundanthurai Tiger Reserve

Mudumalai Tiger Reserve

Conservation reserves

Tiruvidaimarudur Conservation Reserve
Template:Thanjavur district