The Sandman Will Keep You Awake - The Loop
Play Sound
English Migrant to New England
Biography
Thomas Barnard II was born circa 1608 in Lowestoft, Suffolk, England to Thomas Barnard (1575-1621) and Anne Cooke (1580-1662) and died 7 July 1677 Amesbury, Essex County, Massachusetts of unspecified causes. He married Eleanor Helena Morse (1615-1694) 1640 in Salisbury, Essex County, Massachusetts.
Arrived in Massachusetts Bay Colony by 1639 from England. Was a very prominent man, was instrumental in the founding of several new settlements, and often served as moderator of the town meetings, as selectman, and in several other important offices.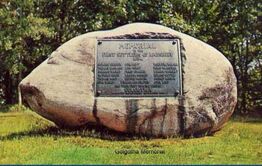 In 1640, the first Puritan settlers arrived to Amesbury, Massachusetts; their first burying ground was on a hill overlooking the Powow River, now referred to as Golgotha. The grave stones or markers in this first burying ground have long since disappeared, along with the identity of the people buried here. In 1903, the Amesbury Founders Memorial was erected by the Amesbury Improvement Association, to mark the site of Amesbury's first burying ground.
He was one of the first eighteen commoners of Salisbury, Massachusetts and was one of the first settlers in Amesbury, where he received lands at various times and was chosen to order the prudential affairs of the county.
Thomas was one of the original purchasers of Nantucket Island in 1659, but he never went to the island. He was killed by Indians in October 1677 during King Philip's War, without having made a will.
Children
Siblings
Residences
See Also
Footnotes (including sources)