Thomas Cotton of Combermere was born 1609 in Combermere Abbey, Dodcott cum Wilkesley, Cheshire, England to George Cotton (1560-) and Mary Bromley (1566-1647) and died circa 1646 England of unspecified causes. He married Frances Needham (c1608-1629) 10 November 1624 in England. He married Elizabeth Calveley (1609-1648) 10 March 1635 in Cheshire, England.
Biography
Combermere Abbey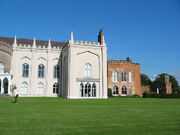 Principle residence was the Combermere Abbey located in Dodcott cum Wilkesley, English County of Cheshire. A former Christian monastery founded in 1130 AD and at one time the third largest church in Cheshire. In August 1539, the abbey and its estates, were granted to Sir George Cotton, an esquire of the body to Henry VIII of England (1491-1547). The Cotton Family kept it as a country home which they held up till 1919.
The name Combermere means "lake of the Cumbri", or Welsh, and refers to an enclave of Britons surviving the Anglo-Saxon conquest of the area. The site given for the monastery buildings was a wooded area by the large lake of Comber Mere, a peaceful and isolated location near the Shropshire border, suitable for the austere Savigniac order.
Marriage and Family
1st Marriage : Frances Needham
MARRIED: firstly, 10.11.1624 to Frances Needham (c1608-1629), daughter of Robert Needham, Viscount Kilmorey, born Great Budworth, Cheshire, died 1653
CHILDREN:
George (heir apparent / died early) c. 1625 – 1646 or 1647
Mary c. 1627 – 1646
Frances c. 1629 – ?
2nd Marriage : Elizabeth Calveley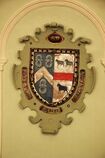 MARRIED: secondly, 10.3.1635. Elizabeth Calveley (1609-1648) of Lea, Cheshire, daughter of Sir George Calveley of Lea, and Mary Cholmondeley of Cholmondeley, 1.8.1609 – c. 1648
Lieutenant-Colonel Charles, Coldstream Guards c.1637 – ?
Lettice c. 1642 – c. 1710
Thomas William ???
Children
Offspring of Thomas Cotton of Combermere and Frances Needham (c1608-1629)
Name
Birth
Death
Joined with

George Cotton (c1625-1646)




Mary Cotton (c1627-1646)




Frances (c1629-)
Siblings
References
Residences
Footnotes (including sources)