Gov. Thomas Dudley was born 12 October 1576 in Yardley Hastings, Northamptonshire, England, United Kingdom to Roger Dudley (aft1534-bef1591) and Susanna Thorne (1560-1585) and died 31 July 1653 Roxbury, Suffolk County, Massachusetts, United States of unspecified causes. He married Dorothy Yorke (1582-1643) 1603 . He married Katherine Deighton (1614-1671) 4 April 1644 .
Biography
1630 Winthrop Fleet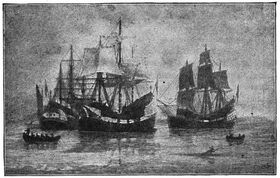 He was a passenger on the in the Winthrop Fleet in 1630, part of The Great Migration. It was the largest fleet ever assembled to carry Englishmen overseas to a new homeland. It was a well planned and financed expedition comprising eleven ships that carried 700 immigrants from England to the Massachusetts Bay Colony. The group, led by Governor John Winthrop, sailed from April to July of 1630. The fleet landed at Salem. Of the 700 on board, 200 died during the voyage, and 100 returned to England soon after arrival. Some of the 400 remaining settlers stayed in Salem, but many moved on to Boston, Watertown, or other settlements.
Thomas traveled with his wife and six children.
Children
Offspring of Gov. Thomas Dudley and

Dorothy Yorke (1582-1643)

Name
Birth
Death
Joined with

Thomas Dudley (1605-)




Samuel Dudley (1608-1683)




Patience Dudley (1612-1690)



Anne Dudley (1612-1672)
20 March 1612 Northampton, Northamptonshire, England, United Kingdom
16 September 1672 Andover, Essex County, Massachusetts, United States
Simon Bradstreet (c1603-1697)


Sarah Dudley (1620-1659)



Mercy Dudley (1621-1691)
27 September 1621 Northampton, Northamptonshire, England, United Kingdom
1 July 1691 Newbury, Essex County, Massachusetts, United States
John Woodbridge (1613-1695)
Footnotes (including sources)