We're Getting Mutants in the MCU - The Loop
Play Sound
Biography
Thomas Jefferson Adair was born 31 May 1814 in Indiana to Thomas Adair (1774-1858) and Rebecca Brown (1776-1846) and died 19 September 1890 Show Low, Apache County, Arizona of unspecified causes. He married Frances Rogers (1818-1847) 26 January 1836 in Pickens County, Alabama. He married Mary Vance (1820-1918) 1846 in Mount Pisgah, Harrison County, Iowa.
Shortly after his birth, the Adair Family settled with many of their extended family in Pickens County, Alabama. There Thomas was married to his first wife, Frances Rogers (1818-1847). Circa 1840 they moved for Chickasaw County, Mississippi and by 1844 had joined the Chickasaw 1845 LDS Branch there along with other members of the extended Richey/Adair/Mangum family clan.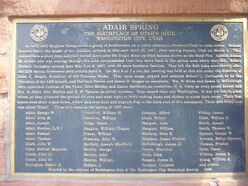 In 1857, a group of about 38 southerner families were called by Brigham Young (1801-1877) on to settle the Virgin River area of Southwest Utah and to crow cotton, to decrease the saints reliance on expensive product from back east. Other pioneer families joined them in 1861 but this ambitious endeavor came to an end after the close of the Civil War and cotton prices collapsed.
Children
Offspring of Thomas Jefferson Adair and Mary Vance (1820-1918)

Name
Birth
Death
Joined with

Thomas Jefferson Adair (1848-1912)

Aaron Porter Adair (1850-1911)
2 June 1850 Winters Quarters, Douglas County, Nebraska, United States
21 October 1911 Phoenix, Maricopa County, Arizona, United States
Fanny Crosby (1860-1915)
Frances Myrah Adair (1853-1928)
6 March 1853 Nephi, Juab County, Utah
18 September 1928

Pine

, Gila County, Arizona
Alfred Bryan Peach (1832-1926)
Moroni Adair (1855-1916)
31 October 1855 Payson, Utah County, Utah, United States
18 February 1916

Lakeside

, Navajo County, Arizona, United States
Emeline Whipple (1858-1924)


Alvira Tilitha Jackson (1874-1954)

Mary Elizabeth Adair (1858-1926)

Jacob Franklin Adair (1860-1871)

George Adair (1869-)
Siblings
Offspring of Thomas Adair (1774-1858) and Rebecca Brown (1776-1846)

Name
Birth
Death
Joined with
Margaret Ann Adair (1804-1852)
7 February 1804 Laurens County, South Carolina
10 February 1852 Manti, Sanpete County, Utah
William Richey (1796-1879)
Samuel Jefferson Adair (1806-1889)
28 March 1806 Laurens County, South Carolina
6 July 1889 Nutrioso, Apache County, Arizona
Jemima Catherina Mangum (1809-1848)
Nancy Fountain White (1811-1880)


Ludinca Unknown




Rachel Hunter (1810-1882)




Roxanna M. (1794-1860)




Anne Catherine Lauritsdatter (1815-1884)

Fairby Adair (1809-1836)
1809 Tennessee
1836 Pickens County, Alabama
Daniel Clark (1800-1832)
Eliza Jane Adair (1811-1892)
11 November 1811 Nashville, Davidson County, Tennessee
16 August 1892 Washington, Washington County, Utah
Samuel Carson (1805-1836)
Moses Pearson (1810-)
John Buren Price (1815-1893)
Sophia Adair (1812-1877)
1812 Tennessee
Joseph Allison (1801-1852)
Thomas Jefferson Adair (1814-1895)
31 May 1814 Indiana
19 September 1890 Show Low, Apache County, Arizona
Frances Rogers (1818-1847)
Mary Vance (1820-1918)
Sarah Ada Adair (1815-1852)
27 December 1815 Tennessee
3 July 1852

Loup Fork

, Platte County, Nebraska
William Mangum (1811-1888)
George Washington Adair (1818-1897)
18 March 1818

West Carthage

, Smith County, Tennessee, United States
26 August 1897 Orderville, Kane County, Utah, United States
Miriam Jane Billingsley (1829-1912)
Johanna Freestone (1849-1903)
John Wesley Adair (1820-1903)
18 February 1820 Greene County, Alabama
5 May 1903 Nutrioso, Apache County, Arizona
Rebecca Frances Mangum (1814-1890)


Harriett Cordelia Williams (1829-1907)

Mary Ann Adair (1822-1892)
5 July 1822 Pickens County, Alabama, United States
9 May 1892

Georgetown

, Kane County, Utah, United States
John Mangum (1817-1881)
Laney Ann Adair (1824-1881)
2 July 1824 Tuscaloosa, Alabama, United States
29 June 1881 Johnson County, Texas, United States

John Ellis Ewing (1822-1905)
Residences
See Also
Adair in Harrison County, Iowa
Footnotes (including sources)