Thomas Southworth, Esq. of Samlesbury was born 1548 in Samlesbury, Lancashire, England to John Southworth (1526-1595) and Mary Asheton (c1536-1595) and died 30 November 1616 Grays Inn, London, Middlesex, Massachusetts of unspecified causes. He married Rosamond Lister (1554-1582) 1574 JL in England. William I of England (1027-1087), Henry II of England (1133-1189), Alfred the Great (849-899)/s, Charlemagne (747-814)/s, Henry II of England (1133-1189)/s, Hugh Capet (c940-996)/s, William I of England (1027-1087)/s, Rollo of Normandy (860-932)/s.
Biography
Another son, Thomas, and his wife, Rosamond Lister, had seven sons and four daughters, who were living in 1595 when their grandfather made his will mentioning them. Two of these children were Thomas and Edward who were in Leiden, Holland in 1613 where many Protestants were gathering because Holland allowed freedom of religion while England required unyielding allegiance to the Church of England.Thomas Southworth, Esq. remained in Holland while others of the family came to America. It is suspected that he did not make the trip that he had intended to make because one of his friends sent him a letter talking about the harrowing voyage on his ship, the Speedwell, which was originally supposed to accompany the Mayflower to the new world. This original letter telling a terrifying account of its shortened trip is now in the possession of the Mayflower Society, and makes interesting reading.
Samlesbury Hall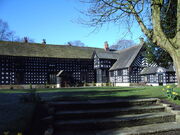 Samlesbury Hall, principal residence of the Southworth Family for much of the 14th-17th centuries, is a manor house built in 1325 which has been many things since then including a public house and girls' boarding school, but since 1925, when it was saved from being demolished for its timber, it has been administered by a registered charitable trust, the Samlesbury Hall Trust. This Grade I listed medieval manor house attracts over 50,000 visitors each year.
Royal Ancestry
Sir Thomas Southworth is a direct decendent and bloodline of the kings of England, Scotland, France, and Norse Kings from Denmark/Norway.
Two separate identified family blood lines run to the Plantagenet kings through the strong Southworth family line, either from King Edward I or King Edward III. One of these English royalty lines begins with Elizabeth of England (Sir Thomas Southworth's 7th great grandmother) and her father King Edward I "Longshanks" of England (reign 1272-1307ad) Thomas' 8th great grandfather. Through the Edward I line, Sir Thomas Southworth is a direct decendent and blood line of the House of Mercia, House of Wessex, House of Normandy, and the House of Plantagenet (Angevin). (King Edward I, Elizabeth of Rhuddlan countess of Hereford, William de Bohn 1st earl of Hereford, Elizabeth de Bohn countess of Arunder, Elizabeth FitzAlen duchess of Norfolk, Joan Goushill baroness of Stanley, Margaret Stanley countess of Sussex, Thomas de Boteler, Mary Boteler Southworth, Knight Sir John Southworth, Sir Thomas Southworth.
Thomas' French king bloodline begins in the Carolingian Dynasty with Charles III (reign 893 AD - 922 AD) and continues through the line of Louis II, Charles II, Louis I, Charlemagne (Thomas' 21th great grandfather), Pepin "the younger", Charles Martel "the Hammer" and continues through Pepin II.
Children
Offspring of Thomas Southworth, Esq. of Samlesbury and Rosamond Lister (1554-1582)
Name
Birth
Death
Joined with

John Southworth (1575-)




Thomas Southworth (1577-)




Bridget Southworth (1581-)
Siblings
#g1: Offspring of John Southworth (1526-1595) and Mary Asheton (c1536-1595)
Name
Birth
Death
Joined with
Thomas Southworth (1548-1616)
1548, Samlesbury, Lancashire, England
30 November 1616, Grays Inn, London, Middlesex, Massachusetts
Rosamond Lister (1554-1582)

+

Constance Unknown Southworth (c1550-)

Mary Southworth (1552-)

,
,

Anne Southworth (1554-)

,
,

Margaret Southworth (1555-)

,
,

Richard Southworth (1556-)

,
,

Gilbert Southworth (1562-)

,
,

John Southworth (1563-)

,
,

Leonard Southworth (1565-)

,
,
Residences
Footnotes (including sources)