Utah Pioneer
2nd Bishop of Paria Ward (1877-1890)
Biography
Thomas Washington Smith was born 23 December 1815 in Lancaster, Smith County, Tennessee, United States to James Agee Smith (1787-1875) and Margaret Ann Love (1791-1865) and died 28 December 1892 Paria, Kane County, Utah, United States of unspecified causes. He married Mary Ann Ross (1818-1838) 2 March 1836 in Royal Hill, Gibson County, Tennessee, United States. He married Sarah Ann Boren (1825-1908) 14 May 1842 in Gibson County, Tennessee. He married Susan Reynolds (1813-1897) 1 April 1848 in Pottawattamie County, Iowa. He married Nancy Matilda Ross (1812-1898) 8 October 1857 in Salt Lake City, Salt Lake County, Utah.
His father, James Agee Smith his mother, Margaret Love. Thomas was educated in the schools of Tennessee. As a young man he did farming and boating on the Mississippi River making several trips by boat to New Orleans. About 1843 he and his father's family moved to Nauvoo, Illinois. The families made their home across the river in Iowa.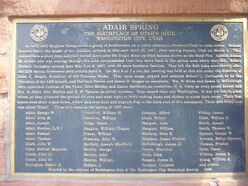 The Adair Spring Monument commemorates the 1857 group of about 38 southerner families were called by Brigham Young (1801-1877) on to settle the Virgin River area of Southwest Utah and to crow cotton, to decrease the saints reliance on expensive product from back east. The first group was led by Samuel Jefferson Adair (1806-1889) and a second group led by Robert Dockery Covington (1815-1902) who was appointed president of the newly formed branch at Washington, Utah. Other pioneer families joined them in 1861 but this ambitious endeavor came to an end after the close of the Civil War and cotton prices collapsed.
Biographical Sketch by Chase
(By Chase Lancaster, son of DeeAnn Stucki Lancaster and Robert Donald Lancaster)
One of the first people in my family entering Utah as a settler was my great, great, great grandfather, Thomas Washington Smith. He was born December 23, 1815 in Tennessee. He was converted to The Church of Jesus Christ of Latter-Day Saints and was baptized January 6, 1841. He emigrated to Nauvoo in 1843. He knew the prophet Joseph Smith and his wife Emma.
Thomas Washington Smith practiced plural marriage. He and his wife, Susan Reynolds, gave birth to twins, one of them being my great, great grandfather, James Edward Smith. He and his twin sister were born along the Big Horn River in Wyoming. They were crossing the plains to Utah by Ox team. About 1846, Thomas and his family, together with his father's family immigrated to Council Bluffs Iowa where he was a Presiding Elder over one of the branches of the church.
The family of Thomas Washington Smith reached Salt Lake City, Utah in 1849. He settled in Provo, Utah, where he erected a saw mill. They lived there for about five years. He was then called by the church to help settle Fillmore, Utah about 1855 and build another saw mill. They were not there long when they were called to Utah Dixie, Washington County, Utah to raise cotton. Thomas made the first cotton gin in Utah! He also erected a saw mill twenty miles North East of Washington town. He called the place Heppsy Dam. The saw was run by water and had an up and down motion instead of around and around. The log being pushed to the saw by hand moving very slowly.
They started by ox team from the Missouri Valley to cross the plains. Susan gave birth to twin girls, Martha Ann and Sarah Elizabeth in Iowa. They became parents of a second set of twins, enroute to Salt Lake City, somewhere along the Big Horn River in Wyoming, 15 June 1851. James Edward and his sister Nancy Jane were these twins. .
The family of Thomas Washington settled in Provo, Utah for about five years where he erected a sawmill. He was then called to help settle Fillmore, Utah. Food was scarce and they had to kill a mule for food. He said, "I can starve but I can't eat that broth." (The broth of the mule was full of tallow, like sheep have, and would leave a layer of grease in the roof of your mouth.) .
In Fillmore he built another sawmill and also a grist mill but they didn't stay there long as they were called to Washington County, Utah to help raise cotton, as he was an experienced cotton farmer from the south. He put up another sawmill, gristmill and a corn cracker. Money was scarce in this area so he traded lumber for cattle and other produce. He soon accumulated a large herd of cattle and in 1870 he was given a call by Apostle Erastus Snow to go to the Pahreah County and help settle it. He also helped build roads to the crossing of the Fathers on the Colorado River. Here Thomas' wife murmured, "I'll be glad when the Lord finds out where he wants Thomas! I'm so tired of getting a house built just to get up and leave it to someone else!" .
Thomas Washington's fourth wife was Nancy Ross. She had been married before. She had one child born in Washington, Utah. .
In 1872 Thomas, his sons, sons in laws, together with other neighbors were called to go to Pahreah, Kane County to settle.
Thomas Washington was called to be bishop of the Pahreah Ward in 1877 through 1890. He was the second bishop of the Pahreah Ward. When he was released as bishop, he went to Tropic Canyon and purchased a sawmill. It was in that mill that about 90% of all the rough lumber was made for building the town of Tropic, Utah. This mill later moved to Bryce Canyon. His family remained in Pahreah and he returned there also. He became one of the leading stock men of Southern Utah. He had the best cattle obtainable in that part of the country. At one time he owned and operated a general merchandise store. Few years earlier he had traded a pinto pony to the Indians for the Smith Ranch and meadows for his herds of cattle. He was a faithful Later Day saint, a good father and a competent business man. He has many descendents who live in Utah and Arizona. Thomas Washington Smith died in Pahreah, 28 December 1892 at the age of seventy-seven years.
Marriage and Family
In 1837 he married Mary Ann Ross. Robert Adam Smith, their only child, was born the 5th of September 1838. Mary Ann lived a few weeks after the birth of their son. In 1840, Thomas Washington joined the Church of Jesus Christ of Latter Day Saints. Soon after he married Sarah Ann Boren. She had ten children. One was born in Illinois in 1844. Two were born in Iowa from 1846-49. One at Provo, Utah in 1851. Two in Fillmore, Utah from 1855-58 and four born in Washington, Utah. .
He married his third wife Susan Reynolds; 1 April 1848. She had three children by a previous marriage. These Stevens children were adopted by Thomas Washington. .
Children
Offspring of Thomas Washington Smith and Susan Reynolds (1813-1897)
Name
Birth
Death
Joined with

John William Smith (1840-1916)




Martha Ann Smith (1849-1890)




Sarah Elizabeth Smith (1849-1913)




James Edward Smith (1851-1908)




Nancy Jane Smith (1851-1863)




Cynthia Ann Smith (1855-1910)
Siblings
Residences
See Also
T.W. Smith - Geni.com

Smith Family

Smith in Gibson County, Tennessee

Smith in Washington County, Utah

Smith in Kane County, Utah
Footnotes (including sources)