Sir Thomas de Southworth was born 1393 in Samlesbury, Lancashire, England to John de Southworth (c1350-1415) and Margaret de Houghton (1354-1424) and died 27 April 1432 Samlesbury, Lancashire, England of unspecified causes. He married Joanna de Boothe (1386-1432) 1418 JL in England.
Biography
Samlesbury Hall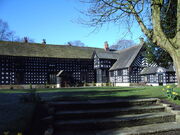 Samlesbury Hall, principal residence of the Southworth Family for much of the 14th-17th centuries, is a manor house built in 1325 which has been many things since then including a public house and girls' boarding school, but since 1925, when it was saved from being demolished for its timber, it has been administered by a registered charitable trust, the Samlesbury Hall Trust. This Grade I listed medieval manor house attracts over 50,000 visitors each year.
Marriage and Family
Richard de Southworth (c1420-1472) - inherited estate - md Elizabeth Molyneux (per visitation of Palatine below)
Elizabeth de Southworth (1422-) - not found?

John de Southworth (1424-)

- (per visitation of Palatine below)
Gilbert de Southworth (c1426-) - not found?
Children
Siblings
Vital Records
Visitation of County Palatine
The Visitation of the County Palatine of Lancaster, Made in the Year 1664-5, by Sir William ... (1873) See pg 277-278 - Southworth of Samlesbury - Family Chart
Sir Thomas Southworth. = Jane, dau. of John Booth of Barton.; ch: Richard (m. Elizabeth Molyneux), John Southworth.
Richard Southworth. = Elizabeth, dau. of Richard Molymeux of Sefton.; ch: Sir Christopher (m. Isabel Dutton), Juliana (m. Sir Richard Towneley), Anne (m. Sir Tho. Molyneux), Elizabeth (m. Tho. Screven, esq.), Margaret (m. Richard Vernon), Emma (m. _ Cholmle) Southworth.
Sir Christopher Southworth, knighted on his expedition to Scotland. = Isabel, dau. and heir of John Dutton, of Dutton, co. Chester.; ch: Sir John (m. Hellen Langton), Christopher, Edward, Alice (m. Sir Alex. Osbaldeston), Margaret (m. Mr. William Hoghton) Southworth.
Sir John Southworth, ob. circa 11 Hen. VIII. = Hellen dau. of Sir Richard Langton of Newton.; ch: (Pg.278 Sir Thomas (m. Margaret Butler), James Southworth.)
References
Residences
Footnotes (including sources)