We're Getting Mutants in the MCU - The Loop
Play Sound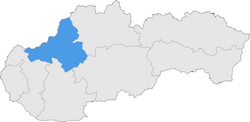 The Trenčín Region (Slovak: Trenčiansky kraj) is one of the eight Slovak administrative regions. It consists of 9 districts (okresy).
Geography
[
]
It is located in the north-western Slovakia, has an area of 4,502 km² and a population of 600,386 (2005). The Danubian Lowland reaches the region to Nové Mesto nad Váhom and Partizánske areas. There are several mountain ranges in the region: a small part of the Little Carpathians in the south-west, White Carpathians in the north-west, Javorníky in the north, Strážovské vrchy mountains in the centre, Považský Inovec in the south, Vtáčnik in the south-east and Žiar in the east. Small parts of Lesser Fatra and of the Kremnické vrchy mountains also stretch to the region. Major rivers are the Váh in the westerm part of the region, creating so-called Váh Basin and Nitra in the south-east and east, creating the Upper Nitra Basin. The Myjava River springs in the west, but flows into the Trnava Region. The region borders Žilina Region in the north-east and east, Banská Bystrica Region in the south-east, Nitra Region in the south, Trnava Region in the south and south-west, Czech South Moravian Region in the west and the Zlín Region in the north-west and north.
Demographics
[
]
The population density is 214 inhabitants per km², which is more than Slovak average (110 per km²), and the second highest after the Bratislava Region. The largest towns are Trenčín, Prievidza, Považská Bystrica, Dubnica nad Váhom and Partizánske. According to the 2001 census, the region had 605,583 inhabitants, with Slovaks forming a relatively homogeneous majority (97.3%), with a small minority of Czechs (1%) and others.[1]
List of districts
[
]
List of municipalities and towns
[
]
There are 274 municipalities (obce), including 18 towns (in bold), where about 58% of the region's population live.
Bánovce nad Bebravou

Beluša

Bobot

Bohunice

Bolešov

Borčany

Borčice

Bošáca

Brestovec

Brezolupy

Brodzany

Brunovce

Brvnište

Bukovec

Bystričany

Bzince pod Javorinou

Cigeľ

Cimenná

Častkovce

Čavoj

Čelkova Lehota

Čereňany

Čierna Lehota

Dežerice

Diviacka Nová Ves

Diviaky nad Nitricou

Dlžín

Dohňany

Dolná Breznica

Dolná Mariková

Dolná Poruba

Dolná Súča

Dolné Kočkovce

Dolné Naštice

Dolné Srnie

Dolné Vestenice

Dolný Lieskov

Drietoma

Dubnica nad Váhom

Dubnička

Dubodiel

Dulov

Ďurďové

Dvorec

Haláčovce

Haluzice

Handlová

Hatné

Horná Breznica

Horná Mariková

Horná Poruba

Horná Streda

Horná Súča

Horná Ves

Horňany

Horné Naštice

Horné Srnie

Horné Vestenice

Horný Lieskov

Horovce

Hôrka nad Váhom

Hrabovka

Hradište

Hrádok

Hrachovište

Hrašné

Chocholná-Velčice

Chrenovec-Brusno

Chudá Lehota

Chvojnica

Chvojnica

Chynorany

Ilava

Ivanovce

Jablonka

Jalovec

Jasenica

Kalnica

Kameničany

Kanianka

Kľačno
Klieština

Kocurany

Kočovce

Kostolec

Kostolná Ves

Kostolná-Záriečie

Kostolné

Koš

Košariská

Košeca

Košecké Podhradie

Krajné

Krásna Ves

Krásno

Krivoklát

Krivosúd-Bodovka

Kšinná

Kvašov

Ladce

Lazany

Lazy pod Makytou

Lednica

Lednické Rovne

Lehota pod Vtáčnikom

Libichava

Liešťany

Lipník

Livina

Livinské Opatovce

Lubina

Lúka

Lúky

Ľutov

Lysá pod Makytou

Malá Čausa

Malá Hradná

Malé Hoste

Malé Kršteňany

Malé Lednice

Malé Uherce

Malinová

Mestečko

Miezgovce

Mikušovce

Modrová

Modrovka

Mojtín

Moravské Lieskové

Motešice

Nadlice

Nedanovce

Nedašovce

Nedožery-Brezany

Neporadza

Nevidzany

Nimnica

Nitrianske Pravno

Nitrianske Rudno

Nitrianske Sučany

Nitrica

Nová Bošáca

Nová Dubnica

Nová Lehota

Nováky

Očkov

Omastiná

Omšenie

Opatovce nad Nitrou

Opatovce

Oslany

Ostratice

Otrhánky

Papradno

Pažiť

Pečeňany

Petrova Lehota

Pobedim

Počarová

Podhradie

Podkylava

Podlužany
Podskalie

Pochabany

Polianka

Poluvsie

Poriadie

Poruba

Potvorice

Považany

Pravenec

Pravotice

Prečín

Priepasné

Prievidza

Pruské

Prusy

Pružina

Púchov

Radobica

Ráztočno

Rudnianska Lehota

Rudník

Ruskovce

Rybany

Sádočné

Sebedražie

Seč

Sedmerovec

Selec

Skačany

Skalka nad Váhom

Slatina nad Bebravou

Slatinka nad Bebravou

Slopná

Soblahov

Stará Lehota

Streženice

Stupné

Sverepec

Svinná

Šípkov

Šišov

Štvrtok

Šutovce

Temeš

Timoradza

Trebichava

Trenčianska Teplá

Trenčianska Turná

Trenčianske Bohuslavice

Trenčianske Jastrabie

Trenčianske Mitice

Trenčianske Stankovce

Tuchyňa

Turčianky

Tužina

Udiča

Uhrovec

Uhrovské Podhradie

Vaďovce

Valaská Belá

Veľká Čausa

Veľká Hradná

Veľké Bierovce

Veľké Držkovce

Veľké Hoste

Veľké Chlievany

Visolaje

Višňové

Vrbovce

Vrchteplá

Vršatské Podhradie

Vydrná

Vysočany

Zamarovce

Záriečie

Zemianske Kostoľany

Zlatníky

Zliechov

Zubák

Žitná-Radiša
References
[
]
External links
[
]