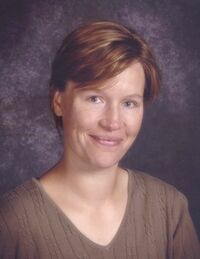 March 10, 2010: I have been editing Wikipedia for about a year and was reading the Signpost last week, it linked to Jimmy Wales, which linked to his 'current' projects. I wandered about and stumbled upon this place...I'm sure to be hooked in a minimal amount of time. I am my family's historian. Nothing famous happened to us, we're just a bunch of German farmers.
May 4, 2010: Since joining this site I have re-started my research of the Ockenfels name. I am adding any mention of the various spellings from any source I find to this wiki and trying to tie them together. I think Familypedia would be a great place to work on single surname projects. Perhaps once I am 'done' it could be used as an example to other surname groups.
The Ockenfels name has lead me to the town of Norway, Iowa which is only 600 people. I think I may try to trace the genealogies of the town and see what turns up. I now my grandmother was born there and I have a feeling she may have been related to half the town somehow. I would love to see a 'town' genealogy project, but I think I'm going to be the only member for quite some time. Perhaps once I have a framework others will help fill in their ancestors. Lake City might also be an interesting town to chronicle, but it's a bit big for a starting project. Frontenac was a vacation spot for the most part, so it could cause some troubles as far as continued genealogical links go.
Lanica's to do list
[
]
Person-pages that need upgrading
[
]
(Any that include question-marks in their names should be first renamed to cut those out.)
Resources
[
]
Surnames
[
]
Lanica's Family
[
]
Brad's Family
[
]
Geography
[
]
My main areas of interest are:
Lobsann

Soborn
- Germany
Karlsruhe

Neudorf

Mannheim

Shriesheim
Bergstraße

Lindenfels
Westphalia

Stala
Karlstad
Internet Adresses
[
]
Some of my favorite genealogy links:
Lanica's Ahnentafel
[
]
Generation Seven
[
]
64 = Lynch
66 = McMain
68 = McCullough
70 = McKenna
73 =

Catharina Hettinger (1782-)

76 = Rodemeyer
81 =

Anna Maria Arends (bef1730-aft1741)

82 = Jasper
89 =

Catharina Bauer (-)

90 = Harwidel
92 = Wagner
96 =

Per Andersson Gallman (abt1775-)

98 = [[]]
99 = [[]]
102 = Nils or Nilson
104 = Lars or Larson
106 = Johannes Magnuson (unknown-1905)
107 = Anna Katherine MAIDEN (c1810-1905)
108 = Carl or Carlson
112 = Meyer
114 = Chris Martens
116 = Heitman (1804-1905)
118 = Fitchen
120 = Claus Bremer (1791-1865)
121 =

Mette Martens (1800-1866)

122 = Sprick
124 =

Martin Heinrich Ehlers (1804-1905)

125 =

Magdalena Mull (1824-)

126 =

Peter Dankers

127 =

Anna Lemmermann
Generation Eight
[
]
128 = Lynch
132 = McMain
135 = McCullough
140 = McKenna
144 =

Johannes Georgius Beingesser (1718-)

145 =

Anna Maria or Barbara Frantz (c1722-)

146 =

Johann Michel Hettinger (1753-)

147 =

Anna Maria Breg (1758-)

150 =

Jacques Antione Casper (1749-1809)

151 =

Marie Anne Fisher (1752-1828)

152 = Rodemeyer
161 =

Sophie Rodermacher (-1733)

164 = Jasper
174 =

Anders Svensson (1746-)

175 =

Boret Halvardsdotter (1743-)

177 =

Andrea Catharina Rodenberger (-)

178 = Bauer
180 = Harwidel
184 = Wagner
194 =

Anders Svensson (1746-)

195 =

Boret Halvardsdotter (1743-)

212 =

Magnus Henrikson (c1780-)

213 =

Maria of Sjomilla

224 = Meyer
228 = Martens
232 = Heitman
236 = Fitchen
242 = Martens
244 = Sprick
248 =

Heinrich Ehlers

249 =

Adelheid Marguerite Postel

250 =

Ludolph Mull

251 =

Marie Hadwig

252 = Dankers
Generation Nine
[
]
256 = Lynch
264 = McMain
270 = McCullough
280 = McKenna
288 =

Fredericus Beingesser

290 =

Johannes Frantz (c1689-)

291 =

Maria Elizabeth Schwanger (1693-)

292 =

Christian Hettinger (1729-)

293 =

Margaretha Ruebenthaler

294 =

Johannes George Breg (c1732-)

295 =

Maria Magdelena Schaaf (c1736-)

298 =

Henri Casper (1701-)

299 =

Magdalena Rund (c1716-1776)

300 =

Antonie Casper (1721-bef1770)

301 =

Anna Maria Strasser (1724-)

302 =

Joseph Fisher (1727-)

303 =

Maria Magdelena Rund (1734-)

304 = Rodemeyer
320 = Ockenfels
328 = Jasper
353 =

Maria Appolonia Zimmerman (-)

360 = Harwidel
368 = Wagner
424 =

Henrik Henrikson (c1750-)

448 = Meyer
456 = Martens
464 = Heitman
472 = Fitchen
488 = Sprick
496 = Ehlers
498 = Postel
500 = Mull
502 = Hadwig
504 = Dankers
Generation Ten
[
]
582 =

George Schwanger (c1667)

583 =

Elizabeth MAIDEN (c1671)

584 =

Christopher Benedict Hettinger (1699-)

585 =

Maria Margaretha Messang

592 =

Antoine Staebell (1693-1758)

593 =

Maria Dorothea Gassert (1693-1771)

594 =

Francois Jaeger (1694-1771)

595 =

Elizabeth Geist (1694-1758)

596 =

Mathias Casper (abt1650-1739)

597 =

Appollonia Mayer (c1665-1731)

598 =

Andrea Rund (c1695-1745)

599 =

Anna Maria MAIDEN (c1695-1727)

600 =

Joannes Jacob Casper (1697-1773)

601 =

Catherine Schaffel (c1695-)

602 =

Jacob Strasser (c1695-1773)

603 =

Margaretha Steck (c1689-1774)

705 =

Catharina MAIDEN (1675-)
Generation Eleven
[
]
1184 =

Wendelin Staebell (1670-)

1185 =

Eva Kohlar (1664-1736)

1186 =

Jacob Gassert (1670-)

1187 =

Margaretha Philipps ()

1408 = Balthasar Brecht (1636-1703)
1409 =

Ana Margaret Christman (1637-)

1920 = Lunebarg Bremer (bef1665-)
Brad's Ahnentafel
[
]
Generation Seven
[
]
64 = Klein
72 = Glatt
80 = Heinlein
88 = Jenny
96 = Demske
100 = Hartwig
104 = Erich Mikkelsen (1781-)
105 =

Marit Olsdotter (c1789-)

106 = Simon SURNAME (-)
108 = Knutson
112 = Vetter
120 = Eiler
Generation Eight
[
]
128 = Klein
144 = Glatt
160 = Heinlein
176 = Jenny
192 = Demske
200 = Hartwig
224 = Vetter
240 = Eiler
Generation Nine
[
]
Generation Nine
[
]
832 =

Michel Espelien

835 =

Synnove Halldorsdatter (1699-1750)
Pages
[
]