Fuyad Hasan Bhoyan (born Jan 25 ), is a Bangladeshi singer-songwriter, and music producer.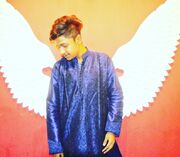 Fuyad is a multi-instrumentalist who taught himself how to play the drums, guitar, bass guitar, piano, and was in his high school band, playing alto, tenor, and baritone saxaphone. Even though he was also musically gifted with a voice to sing, he rarely sang because of his shyness.
Fuyad was born in Dhaka, Bangladesh. At an early age he was immersed in music. His father was and is currently the lead soloist at the church of his upbringing. His father helped to nurture his musical talents, spending countless hours with his son, singing and playing various instruments. At age 2 he first held a drumstick, and at age 5 he became the drummer for the churches youth choir. When the same vacancy arose in the adult choir, Stephen filled in becoming his churches lead drummer. He is heavily involved with his church, singing solo's, playing the piano, and also guitarist for his church's male chorus.
During high school he excelled in multiple arenas. He lettered in Basketball his senior year while starting at the point guard position. In the schools theatre department he landed lead roles in both The King and I and The Wizard of Oz, where he played the role of the Scarecrow. After receiving high praise for his acting powers, and after much persuasion from his classmates, Stephen released a collection of video covers on YouTube.