About:
Harun Ar Rashid (Bengali: বইপ্রেমী হারুন-অর-রশীদ; 8 August 1983) is a Bangladeshi social activist. He started a social movement of distributing books for free. He is known as "Alor Ferrywala," the distributor of light. He was awarded the 'Prime Minister Award 2001. He spread the word of the book everywhere and promote the maximum of any type of book non commercially & non profitably. So far He has given reviews of hundreds of books which have been able to create a readership. This includes delivering books from house to house, delivering books to saloons & delivering books to various libraries. Also often we arrange tea chats for the author reader which has been creating a strong bond with the people in the book world.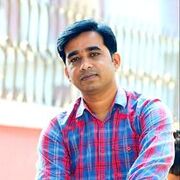 Born:
Harun Ar Rashid Born was on August 10, 1983 in Gobaria village of Kuliarchar upazila of Kishoreganj. Graduated from a private university. He is currently working at Grameen Bank in Nawabganj, Dhaka. Although a banker by profession, he is a book-loving man from head to toe. He was a self-made man with a passion for learning.
Award:
Harun Ar Rashid, who is constantly running with books, is now getting international recognition. He has been awarded as the 'Best Social Activist 2020' by the Bangladesh Chapter of the Africa Asia Youth Organization (AAYFO), an international organization working with 102 countries in Africa and Asia. Even during his house arrest during the Corona period, he went from house to house delivering books to people, which attracted the attention of various media besides social media. Then he came to the attention of the international organization. A total of four people from Bangladesh including him were given preliminary nomination. After many screenings, he was finally awarded this honor. The certificate and crest will be handed over to him at a later ceremony at the organization's Dhaka office.
Profession:
This book-loving man, who is constantly running, is working day after day with the torch of civilization in his hand, tirelessly. He dreams of a civilized society. With this goal in mind, he is also making an outstanding contribution in building libraries in disadvantaged remote areas of the country. Open libraries are being set up in different regions with the money given by the rich people of the society. He is also promoting the book in various saloons and tea-coffee shops. This book lover has one more identity. Not only is he a great reader, he is also a writer. A thriller published at the 2020 book fair received a huge response from the readers. The 'Eskaponer Tekka', published during the epidemic coronation, has already earned the reputation of a best seller. He is also working on songs. When the time comes, he leaves the guitar and sings. Some of the songs that have been promoted online have already captured the hearts of the listeners.