Jurassic World: Dominion Dominates Fandom Wikis - The Loop
Play Sound
Vaslui County  

view Community messages

Articles, images
People
Daily life

before 1400

 •

1400-1449

 •

1420-1499

 •

1500-1549

 •

1520-1599

 •

1600-1649

 •

1620-1699

 •

1700-1749

 •

1750-1799

 •

1800-1819

 •

1820-1839

 •

1840-1859

 •

1860-1879

 •

1880-1899

 •

1900-1919

 •

1920-1939

 •

1940-1959

 •

1960-1979

 •

1980-1999

 •

2000-present

Research

Vaslui County links

 •

Birth records

 •

Businesses

 •

Cemeteries

 •

Census data

 •

Church records

 •

Court records

 •

Death records

 •

Directories

 •

Landowner records

 •

Maps

 •

Marriage records

 •

Military records

 •

Obituaries

 •

Probate records

 •

Queries
Vaslui (Romanian pronunciation: [vaˈsluj]) is a county (judeţ) of Romania, in the historical region Moldavia, with the seat at Vaslui.
Demographics
[
]
In 2002, it had a population of 455,049 and the population density was 86/km².
| Year | County population[3] |
| --- | --- |
| 1948 | 344,917 |
| 1956 | 401,626 |
| 1966 | 431,555 |
| 1977 | 437,251 |
| 1992 | 461,374 |
| 2002 | 455,049 |
Geography
[
]
This county has an area of 5,318 km².
The county lies on a plane, being bounded by the Prut River on the east and crossed in its centre by Bârlad River, a tributary of Siret River.
Neighbours
[
]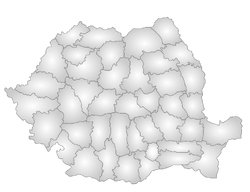 People
[
]
Gheorghe Gheorghiu-Dej

Constantin Tănase
Economy
[
]
Vaslui County was heavily industrialised during the communist period and had large industrial complexes that went bankrupt during the 1990s. Today, the county's industry is mainly agricultural one, with other industries concentrated in the main urban areas.
County's main industries:
mechanical components
chemicals
food stuffs
textiles.
Tourism
[
]
The main tourist destinations are the cities of Vaslui, Bârlad and Huși. The Vaslui County Council, the county councils of the Leova and Hîncești districts, and the European Union in the Republic of Moldova(through the Phare program), have set up a program which seeks to promote tourism in these regions.[4] The main tourist attractions of the Vaslui-Hîncești-Leova touristic program are, among others, the medieval and early modern churches and monasteries, the Manuc Bei Hunting Palace and the Manuc - Mirzaian Manor Palace (similar to Manuc's Inn in Bucharest) in Hîncești, as well as the region's natural riches.
Administrative divisions
[
]
Vaslui County has 3 municipalities, 2 towns and 81 communes
External links
[
]
References
[
]