We're Getting Mutants in the MCU - The Loop
Play Sound
Vykintas, Prince of Samogitia, was born circa 1200 .
Vykintas (c1200-1253) was Prince of Samogitia and rival to future Grand Duke of Lithuania Mindaugas. In 1236 he probably led Samogitian forces in the Battle of Saule against the Livonian Order. The order suffered a great defeat, was on the brink of collapse, and was forced to become a branch of the State of the Teutonic Order.
In 1248 Mindaugas sent him together with Tautvilas and Edivydas to a military campaign in Smolensk. When they failed Mindaugas tried to capture their estates. The three men organized a vast coalition against Mindauges which included Tautvilas' brother-in-law Daniel of Galicia, Livonian Order, and Samogitians. The Princes of Galicia-Volhynia managed to gain control over Black Ruthenia, an area ruled by Vaišvilkas.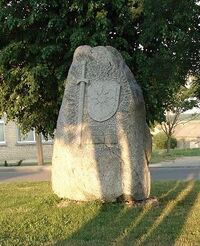 In 1250, the Livonian Order organized two major raids, one against Nalša land and the other against the domains of Mindaugas and those parts of Samogitia that still supported him. However, Mindaugas succeeded in bribing Andreas von Stierland, the master of the order, who was still angry at Vykintas for the defeat in 1236. Mindaugas was to be baptised and crowned as King of Lithuania. In return he agreed to relinquish control over some lands in the western Lithuania. In 1252, Tautvilas and his remaining allies attacked Mindaugas in Voruta, sometimes considered to be the first capital of Lithuania. The attack failed and Tautvilas' forces retreated to defend themselves in Tverai castle, in the present-day Rietavas municipality. Vykintas died ca. 1253 and Tautvilas escaped to his brother-in-law to Galicia-Volhynia. In 1253 Mindaugas was crowned as promised.
Vykintas' sister was married to Dausprungas, Mindaugas' brother.
See also
References
(Lithuanian) Lietuvos valdovai (XIII-XVIII a.): enciklopedinis žinynas. Vytautas Spečiūnas (compiler). Vilnius: Mokslo ir enciklopedijų leidybos institutas. 2004. pp. 15–21. ISBN 5-420-01535-8. 
Children
Residences
Footnotes (including sources)