William Arnold was born 4 June 1587 in Ilchester, Somerset, England to Nicholas Arnold (1550-1623) and Alice Gully (1553-1596) and died 7 September 1675 Providence, Providence County, Rhode Island of unspecified causes. He married Christian Peake (1583-1659) 1610 in Somerset, England.
Research Notes
He was mentioned as deceased by his son Benedict on Nov 3,1677, and died "after the beginning of King Philip's War", i.e. mid-1675.
He came to New England in 1635, first settling at Hingham, and then Providence by April 1636. In 1638, he settled in Pawtuxet (now Warwick).
Son of Nicholas Arnold and Alice Gully Arnold of Ilchester, Co.Somerset. He was a brother of Joan (Arnold) Hopkins, and therefore his nephew was Thomas Hopkins of Providence,RI.
Summary: 1636 Providence Plantation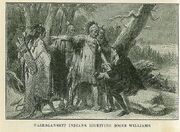 One of several settlers of Providence Plantation in 1636, 1st settlement in the future state of Rhode Island. This group was followers of Roger Williams, who was banished from the Massachusetts Bay Colony for heretical preaching. In early 1636 his group went to purchase territory immediately to the west of Plymouth Colony, from the Narrangansett Indians. It is present-day Providence, Rhode Island.
Marriage and Family
He married Christian Peake/Peak by 1611.
Marriage & Family
Elizabeth Arnold (1611-1685) - md William Carpenter (1605-1685), also a first settler and signer of the 1636 Providence Compact.
Benedict Arnold (1615-1678) - in 1663 he was elected as the first Governor of Rhode Island and helped bring about the union of the Rhode Island and Providence Plantations into one colony. Also signed the Providence Loyalty Compact.
Thomas Arnold (1620-)
Benjamin Arnold (1625-1625)
Mary Arnold (1630-1710) - Md John Gardner (1628-1668), settled in Hingham MA.
Eleazer Arnold (1630-1712)
Children
Offspring of William Arnold and Christian Peake (1583-1659)
Name
Birth
Death
Joined with
Elizabeth Arnold (1611-1685)
23 November 1611 Ilchester, Somerset, England
23 November 1685 Providence, Providence County, Rhode Island
William Carpenter (1605-1685)

Benedict Arnold (1615-1678)
21 December 1615 Ilchester, Somerset, England, United Kingdom
19 June 1678 Newport, Newport County, Rhode Island, United States
Damaris Westcott (1621-1678) 

Damaris Westcott (1621-1678)

 

Mary Turner (1641-1690)




Thomas Arnold (1620-)



Stephen Arnold (1622-1699)
22 December 1622 Ilchester, Somersetshire, England
15 November 1699 Providence, Providence County, Rhode Island
Sarah Smith (1629-1713)


Benjamin Arnold (1625-1625)



Mary Arnold (1630-1710)
23 January 1630 England
20 December 1710 Hingham, Plymouth County, Massachusetts
John Gardner (1628-1668)


Eleazer Arnold (1630-1712)
Siblings
#g1: Offspring of Nicholas Arnold (1550-1623) and Alice Gully (1553-1596)
Name
Birth
Death
Joined with

Thomasine Arnold (1571-1622)

,
,
Joane Arnold (1577-1621)
30 November 1577, Ilchester, Somerset, England
10 March 1621, Yeovilton, Somerset, England
William Hopkins (1575-1647)

Margery Arnold (1581-)

,
,
William Arnold (1587-1676)
4 June 1587, Ilchester, Somerset, England
7 September 1675, Providence, Providence County, Rhode Island
Christian Peake (1583-1659)

Agnes Arnold (1591-1595)

,
,
Residences
Footnotes (including sources)