William Bond was born 3 September 1625 in Bury Saint Edmunds, Suffolk, England to Thomas Bond (1597-1659) and Elizabeth Woods (1598-1659) and died 8 September 1695 Watertown, Middlesex County, Massachusetts of unspecified causes. He married Sarah Biscoe (1626-1693) 7 February 1649 in Watertown, Middlesex County, Massachusetts.
Biography
William Bond was the first Speaker of the Massachusetts Province House of Representatives in 1692 following unification of Plymouth Colony and Massachusetts Bay Colony in 1691, a position he would be elected to several times after.
William was given (adopted?) to his father's sister Elizabeth (Bond) Child who had no son. Elizabeth and her husband Ephraim Child came to America with William in the early 1630's. This is the first relative to come to America that I know about. He had many jobs during his lifetime. He was a Selectman, a Town Clerk, a Captain of a horse cavalry, a Justice of the Peace and Speaker of the General Court from 1691-1695.
Migration to America
Bond was baptized September 8, 1625 in England, the son of Thomas Bond. He may have to the American colonies in 1631 with his aunt, Elizabeth Bond, the wife of Deacon Thomas Child, or he may have come at a later date. (See Robert Charles Anderson, The Great Migration Begins, Immigrants to New England, 1620–1633, 3 vols. (Boston: New England Historic Genealogical Society, 1995), 2098).
Watertown Founders Monument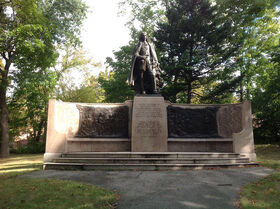 He is listed on Watertown Founders Monument, commemorating the first settlers of Watertown, Massachusetts. The town was first known as Saltonstall Plantation, one of the earliest of the Massachusetts Bay Colony settlements. Founded in early 1630 by a group of settlers led by Richard Saltonstall and George Phillips, it was officially incorporated that same year. The alternate spelling "Waterton" is seen in some early documents.
Speaker of the General Court
Bond became a leading citizen of Massachusetts Bay, serving as a selectman and town clerk of Watertown, captain of the militia, Justice of the Peace, and member of the Council of Safety.
Following the unification of Massachusetts Bay and Plymouth in 1691 by the Second Royal Charter, William became the first speaker, holding the office three times (1691-1696).
Bond Family Estate
His American estate was bought from John Knowles and the family kept it for 170 years.
Marriage & Family
In 1649 he married Sarah Biscoe, daughter of tanner Nathanial Biscoe, and were the parents of seven children.
Elizabeth Bond (1650-1729)

William Bond (1650-1724)

John Bond (1652-1690) - Died in smallpox epidemic of 1690-91 with 3 of his children.

Nathaniel Bond (1658-1700)

Sarah Bond (1661-1700)

Jonas Bond (1664-1727) - Lieut. Col and also a Justice of the Peace. He was known as the "marrying squire". Md the sister of his brother's wife. (Coolidge)

Mary Bond (1669-1700)
Children
Offspring of William Bond and Sarah Biscoe (1626-1693)
Name
Birth
Death
Joined with

Elizabeth Bond (1650-1729)




William Bond (1650-1724)



John Bond (1652-1690)
2 December 1652 Watertown, Middlesex County, Massachusetts
28 February 1690 Watertown, Middlesex County, Massachusetts
Hannah Coolidge (1656-1699)

Thomas Bond (1655-1704)
22 December 1655 Watertown, Middlesex County, Massachusetts
17 December 1704 Watertown, Middlesex County, Massachusetts
Sarah Woolson (1661-1721)


Nathaniel Bond (1658-1700)




Sarah Bond (1661-1700)



Jonas Bond (1664-1727)
13 July 1664 Watertown, Middlesex County, Massachusetts
21 April 1727 Watertown, Middlesex County, Massachusetts
Grace Coolidge (1663-1699) 

Grace Coolidge (1663-1699)

 

Elizabeth Jackson Prentice (1658-1748)




Mary Bond (1669-1700)
Siblings
References
References
Footnotes (including sources)