William Bridges was born circa 1610 in England . He married Mary Oldham (1621-1646) in Massachusetts.
Biography
William Bridges – Possible brother or kinsman of John Bridges, Master of Little James which sailed to Plymouth Colony in 1623. He was a son-in-law of John Oldham (1592-1636), married to his daughter Mary Oldham. In later years he stated in a petition he came over with his father-in-law in 1623. In the 1623 Plymouth Land Census, his name does not appear but he may have been represented by John Oldham's 10 shares. Per Stratton he resided in the Massachusetts Bay Colony.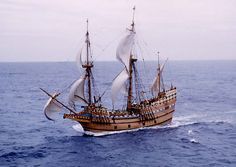 He was a passenger on the English ship Little James, which sailed from London in April, 1623, bound for New England. The ship was one of two to arrive safely that year and would remain in local waters to help with fishing and other chores. The Little James had two young men in charge – Master John Bridges, master mariner, and a novice Captain, Emmanuel Altham, a Merchant Adventurer.






Siblings
Residences
Footnotes (including sources)