William Carpenter was born 23 May 1605 in Amesbury, Wiltshire, England, United Kingdom to Richard Carpenter (1575-1625) and Alice Knight (1583-1607) and died 7 September 1685 Providence, Providence County, Rhode Island, United States of unspecified causes. He married Elizabeth Arnold (1611-1685) 1 November 1635 .
Biography
William Carpenter is the first surnamed Carpenter to make permanent residence in America.
William Carpenter was the son of Richard Carpenter, who was born in England, probably in or near the Wiltshire town and parish of Amesbury (that's the town nearest Stonehenge) or the adjacent parish of Newton Ton(e)y. His mother may have been Alice Knight, but this is not confirmed.
William Carpenter is the first person bearing the surname "Carpenter" to make permanent settlement in America.[4] He settled in Providence, Rhode Island, then called Providence Plantation and was instrumental in the development of the Colony holding many public offices.
1636 Providence Plantation Compact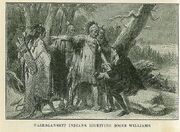 William Carpenter (along with his father-in-law, William Arnold (1587-1676)) was one of several settlers of Providence Plantation in 1636, 1st settlement in the future state of Rhode Island. This group followed Roger Williams, who was banished from the Massachusetts Bay Colony for heretical preaching. In early 1636 his group went to purchase territory immediately to the west of Plymouth Colony, from the Narrangansett Indians. It is present-day Providence, Rhode Island.
While William Carpenter was not one of the first six male settlers of Providence Plantation with Roger Williams in 1636, he arrived early the next spring with seven others. His name is listed in the first deed executed in the Colony by Roger Williams. In 1640, his name appears with the names of 38 others on an agreement to form a government in Providence.
For defense against Indian attacks, William Carpenter built a block house on his property, the first in the colony, soon after settling there. In an Indian attack during King Philip's War, many of the surviving Providence Plantation settlers gathered there for protection inside the block house. Because of William Carpenter's block house or fortified position, the settlers' brave stand compelled the Indians to retreat. William's son William Jr. was killed in the attack with many other settlers.[9] During King Philip's War, the counsel of the most judicious inhabitants of the colony was sought by the General Assembly, and Carpenter was one of 16 individuals named in this request.
Marriage and Family
William married Elizabeth Arnold (23 Nov 1611 - after 7 Sep 1685), who was born in Ilchester, Somerset, England, the daughter of William Arnold (24 June 1587 - 1675/76) and sister of Benedict Arnold, the first governor of the Colony of Rhode Island and Providence Plantations.[1] William and Elizabeth had eight children together: Joseph, Lydia, Ephraim, Priscilla, Timothy, Silas, Benjamin, and William. William and his wife Elizabeth (née Arnold) were probably buried on their homestead in present-day Cranston, Rhode Island.
Children
Offspring of William Carpenter and Elizabeth Arnold (1611-1685)
Name
Birth
Death
Joined with
Joseph Carpenter (1640-1683)
April 1640 Providence, Providence County, Rhode Island, United States
August 1683

Musketa Cove

, Nassau County, New York, United States

Hannah Hope Carpenter (1640-1673)

 

Hannah Hope Carpenter (1640-1673)

 

Anna Elizabeth Weekes (1649-1713)



Ephraim Carpenter (1640-1703)
1640 Providence, Providence County, Rhode Island
1703 Oyster Bay, Nassau County, New York
Susannah Harris (1642-1677) 

Susannah England (1647-1684)

 

Susannah Harris (1642-1677)

 

Susannah England (1647-1684)

 

Lydia Wood (c1650-)




Priscilla Carpenter (1648-1695)




Silas Carpenter (1650-1695)




Benjamin Carpenter (1651-1711)
Siblings
References
William Carpenter - Wikipedia
History and Genealogy of the Carpenter Family in America... - (Free on Google Books)
Residences
Footnotes (including sources)