We're Getting Mutants in the MCU - The Loop
Play Sound
Biography
William Christopher Ritter was born 19 February 1824 in Marion County, Alabama, United States to Anderson Ritter (1797-1873) and Phebe Douglas Young (1800-1883) and died January 1875 Prince of Wales Mine, Big Cottonwood Canyon, Salt Lake County, Utah, United States of unspecified causes. He married Sarah Ann Lowery (1825-1876) 21 March 1845 in Monroe County, Mississippi. He married Jennette Bland (1832-) 18 October 1862 in Salt Lake City, Salt Lake County, Utah. He married Maragret Ann Bailey (1838-1904) 18 April 1868 in Salt Lake City, Salt Lake County, Utah.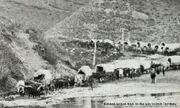 Numbered amoung the participants in the Mississippi Saints 1846 Pioneer Company, a early Mormon pioneer wagon train that left Mississippi in 1846 to join the Mormon exodus to Utah. This group Brigham Young's vanguard company and spent the winter of 1846/47 at Fort Pueblo where the were joined by soldiers of the sick detachment of the Mormon Battalion. They reached Salt Lake City in late summer of 1847.
William and Sarah joined this pioneer company as a young newlywed couple. Their first baby, William Taylor Ritter, was most likely born in March 1847 duting the pioneer company stay over at Pueblo, Colorado.
Marriage and Family
1st Marriage: Elizabeth Henderson
Children
Offspring of William Christopher Ritter and Sarah Ann Lowery (1825-1876)

Name
Birth
Death
Joined with
William Taylor Ritter (1847-)
22 March 1847 Pueblo, Pueblo County, Colorado, United States

Mary Jane Warner (1848-)

Sarah Josephine Ritter (1849-1936)
30 December 1849 Salt Lake City, Salt Lake County, Utah, United States
1936 Ogden, Weber County, Utah, United States
William Willard Hutchings (1823-1904)


Smith Cortright Covert (1839-1900)




Jacob Wayne Hendrickson (1839-1913)

Phoebe Caroline Ritter (1852-)
3 August 1852 Salt Lake City, Salt Lake County, Utah, United States
Thomas Holgate (1844-1910)
Angelina Martha Ritter (1855-1902)
June 1855 Utah, United States
Joseph Hartup Stewart (1852-1899)
Orson Allred (1852-1917)
Offspring of William Christopher Ritter and

Jennette Bland (1832-)

Name
Birth
Death
Joined with

Charles Ritter (1861-)

Kathleen Ritter (1862-1942)

Adelia Ritter (1866-1936)

William Christopher Ritter (1866-1931)

Franklin Ritter (1870-1930)

Mary Ritter (1872-1893)
Siblings
Residences
Legacy
See Also
William Ritter

Ritter in Marion County, Alabama

Ritter in Monroe County, Mississippi

Ritter in Salt Lake County, Utah
Footnotes (including sources)