Biography
Dr. William Dyer was born 7 March 1663 in Boston, Suffolk County, Massachusetts, United States to Samuel Dyer (1635-1678) and Anne Hutchinson (1643-1716) and died 27 July 1738 Truro, Barnstable County, Massachusetts, United States of unspecified causes. He married Mary Hatch Taylor (1657-1738) December 1686 in Barnstable, Barnstable County, Massachusetts, United States. Charlemagne (747-814)/s, Henry II of England (1133-1189)/s, Hugh Capet (c940-996)/s, William I of England (1027-1087)/s.
BIRTH 7 Mar 1653 Dorking, Mole Valley District, Surrey, England
DEATH 27 Jul 1738 (aged 85) Truro, Barnstable County, Massachusetts, USA
BURIAL Old North Cemetery Truro, Barnstable County, Massachusetts, USA
Dr. Dyer resided in Barnstable from about 1686, and moved to Truro approximately 1705. He was born in England.
Dr. William of Barnstable, b. 1653. Settled at Truro before the proprietors. He m. 1686, Mary, dau of Wm. Taylor of B. The house occupied by the late Capt. Ebenezer Atkins taken down within the last twenty years, was built by him. The gravestones from which we copy, are still in good condition in the Old North.
The old doctor had a knack of keeping in hot water with his neighbors, and like Tristam Shandy's father, had a spice in his temper known by the name of perseverance in a good cause, and obstinacy in a bad one. I should do great injustice to a long line of descendants, justly proud of their ancestors,to deny them a like precious inheritance. His family all married and settled around him, soon became among the largest and most influential in town ; a position maintained to this day.
Children: i. Lydia, b. 1688. ii. William Junisimus, b. 1690, m. Hannah, iii. Jonathan, b. 1692, m. Phebe. 2d, Hannah, iv. Henry, b. 1693, m. Anne, v. Isabel, b. 1695, m- Samuel Small, 1713. vi. Ebenezer, b. 1697, m. Sarah Doane of Eastham, 1720. vii. Samuel, b. 1698. m. Mary Brown, he d. 1773. viii. Judah b. 1701, m. Phebe Young, sons, Elijah, Judah.
Children
Offspring of Dr. William Dyer and Mary Hatch Taylor (1657-1738)
Name
Birth
Death
Joined with

Lydia Dyer (1688-1688)



William Dyer (1690-1764)
30 October 1690 Barnstable, Barnstable County, Massachusetts, United States
1764

Falmouth

, Cumberland County, Maine, United States
Hannah Strout (1690-1749) 

Hannah Strout (1690-1749)

 

Hannah Cole (1715-1750)



Jonathan Dyer (1692-1773)
22 February 1692 Barnstable, Barnstable County, Massachusetts, United States
10 August 1773 Truro, Barnstable County, Massachusetts, United States
Phebe Snow (1689-1715) Susannah Brown (1700-1761) 

Phebe Snow (1689-1715)

 Susannah Brown (1700-1761) 

Mehitable Ryder (1692-1773)




Henry Dyer (1693-1767)



Isabel Dyer (1695-1731)
9 July 1695 Barnstable, Barnstable County, Massachusetts, United States
27 February 1731 Truro, Barnstable County, Massachusetts, United States
Samuel Small (1690-1729) Samuel Small (1690-1729) Joseph Hatch (1682-1748)

Ebenezer Dyer (1697-1777)
3 April 1697 Barnstable, Barnstable County, Massachusetts
23 July 1777 Truro, Barnstable County, Massachusetts
Sarah Doane (1699-1760) Ruth Snow (1718-1765) Phebbediah Smith (1716-1770) Sarah Doane (1699-1760) Ruth Snow (1718-1765) Phebbediah Smith (1716-1770) Mercy Freeman (1702-1786)

Samuel Dyer (1698-1773)
30 October 1698 Barnstable, Barnstable County, Massachusetts, United States
10 January 1773 Truro, Barnstable County, Massachusetts, United States
Mary Brown (1704-1745) Mary Brown (1704-1745) Mary Paine (1720-1799)


Judah Dyer (1701-1742)
Siblings
Residences
Vital Records
Truro Gravestone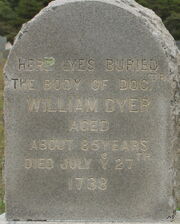 See Also
Footnotes (including sources)