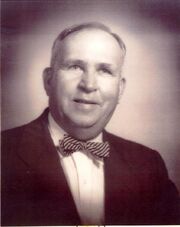 William Frederick Geer, known as Fred, was born in Penfield, Greene County, Georgia on November 26, 1885 and died on October 16, 1955 in Augusta, Richmond County, Georgia. He was the second son of James Frederick Geer, Jr. (1856-1890) and Anna Tallulah Colclough (1855-1933). Fred first married about 1910 Lizzie Mae Rabun (1891-1911), daughter of John Solomon Rabun (1867-1906) and Mary "Mamie" Dickson (1866-1922) of Stapleton, Jefferson County, Georgia. Lizzie died in childbirth and is buried in the Stapleton Baptist Church Cemetery, Jefferson County, Georgia.
Fred secondly married in Augusta on March 18, 1922 at St. John's United Methodist Church Ida Gilmore Fuller (1892-1981), daughter of Harrison Calvin Fuller (1852-1938) and his second wife Ida Gilmore Fooshe (1867-1892) of Waterloo, Laurens County, South Carolina. They resided in Augusta and are buried in Penfield Cemetery, Greene County, Georgia.
Fred was an independent grocery man and operated grocery stores in Stapleton, and later, Augusta. His stores flourished until the hard days of the depression which forced him to close his stores and return to Union Point, where he worked for the Works Projects Administration. The family returned to Augusta about 1935 when Fred went to work as a Safety Officer for the Charleston and Western Carolina Railroad. He attended the First Baptist Church and was a member of the Phinizy Bible Class.
Fred and Ida Geer were the parents of four children all born in Augusta: 1) Dr. William Dudley Geer (1922-2003), Ph.D. married Lucy Elizabeth Durner (1927-2009); 2) Margaret Fuller Geer (1924-2013) married Henry Rupert Sledge (1913-2002); 3) Rev. Robert Stokely Geer first married Edith Roberta Underwood (1928-1992) and secondly Mrs. Catherine Jeanne Satcher (1928-2007) Cole; 4) Harry Calvin Geer married Anita Carolyn Taylor.
External Links
[
]
Burial
[
]
Ancestry
[
]