We're Getting Mutants in the MCU - The Loop
Play Sound
William Holbreck was born 9999 in England and died 1621 Onboard the Mayflower in Plymouth Harbor, Plymouth, Plymouth County, Massachusetts of unspecified causes.
Research Notes
Very little is known about this Mayflower passenger.
William Holbeck came on the Mayflower as a servant, or apprentice, to the William White (1570-1621) family. Since he was termed a servant, and did not sign the Mayflower Compact, he was likely under the age of 18 or 21 at the time.
A search of English baptism records has turned up at least four candidates named William Holbeck who were baptized between 1600 and 1610, including at Fillongley and Shustoke, co. Warwick, and Spofforth, co. Yorks. Since the White family is thought to have come from co. Lincoln, the baptism that is perhaps of most interest is 24 April 1603 at Gainsborogh, co. Lincoln, son of John. Unfortunately without any definite ties to a Mayflower passenger, it will be difficult to prove William Holbeck's true origins in England.
Vital Records
Bradford's Journal
The White family, as recalled by William Bradford (1590-1657) in 1651, per their Mayflower voyage, and the birth of Peregrine:
"Mr. William White, and Susana, his wife, and one sone, called Resolved, and one borne a ship-bord, called Peregriene; and *2* servants, named William Holbeck and Edward Thomson."
The fate of the White family as recalled by Bradford in 1651:
"Mr. White dyed soon after ther landing. His wife married with Mr. Winslow (as is before noted). His *2* sons are married, and Resolved had *5* children, Peregrine tow (sic), all living. So their increase are now *7*."
Cole's Hill Memorial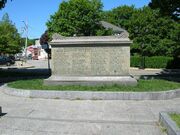 A large monument was erected in 1921 on Cole's Hill in Plymouth, Massachusetts to honor the many pilgrims who came to Plymouth Colony in the Mayflower but died during the first terrible winter and were buried here. This person is one of those person's listed thereon.
Pilgrim Monument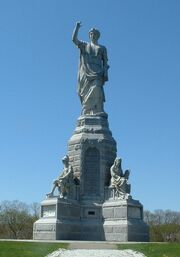 National Monument to the Forefathers, commemorates the Mayflower Pilgrims, (including this person) who came to Plymouth Colony in 1620 on the Mayflower. Dedicated on August 1, 1889, it is thought to be the world's largest solid granite monument. Located on an 11 acre hilltop site on Allerton Street in Plymouth, Massachusetts.
References
Residences
Footnotes (including sources)