William J Adair was born 27 August 1830 in Pickens County, Alabama to Samuel Jefferson Adair (1806-1889) and Jemima Catherina Mangum (1809-1848) and died 31 October 1846 Mt. Pisgah, Union County, Iowa of unspecified causes.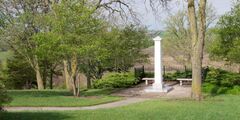 Mount Pisgah was a refugee way station from 1846 to 1852 along the Mormon Trail between Garden Grove and Council Bluffs. Today it is marked by a tall monument on a nine-acre state presertve which contains exhibits, historical markers, and a reconstructed log cabin. However, little remains from the 19th century except a cemetery memorializing the 300 to 800 emigrants who died while passing through or residing in the community.
William was one of a dozen Adair/Mangum to die here with their grandmother Rebecca Brown Adair.
Siblings
#g1: Offspring of Samuel Jefferson Adair (1806-1889) and Jemima Catherina Mangum (1809-1848)
Name
Birth
Death
Joined with
William Jefferson Adair (1830-1846)
27 August 1830, Pickens County, Alabama
31 October 1846, Mt. Pisgah, Union County, Iowa
John Milton Adair (1833-1899)
8 January 1833, Pickens County, Alabama
June 1899, Barclay, Lincoln County, Nevada
Eliza Jane Richey (1837-1908)
Rebecca Frances Adair (1835-1836)
8 July 1835, Pickens County, Alabama
25 May 1836, Pickens County, Alabama
Permelia Jane Adair (1837-1883)
27 June 1837, Fulton, Clarke County, Alabama
16 December 1883,

Dry Fork

, Uintah County, Utah Territory

John R Holden (1828-)

+

Charles Decatur Searle (1836-1909)
George Washington Adair (1837-1909)
27 June 1837, Pickens County, Alabama
9 September 1909, Bloomfield, San Juan County, New Mexico
Ann Catherine Chestnut (1844-1863)

+

Emily Prescinda Tyler (1847-1917)
Samuel Newton Adair (1839-1924)
11 December 1839, Itawamba County, Mississippi
16 May 1924, Luna, Catron County, New Mexico
Helen Genette Brown (1845-1933)
Joseph Jasper Adair (1842-1846)
23 January 1842, Itawamba County, Mississippi
8 September 1846, Mt. Pisgah, Union County, Iowa
Rufus Columbus Buleson Adair (1844-1847)
9 February 1844, Itawamba County, Mississippi
2 August 1847, Winter Quarters, Douglas County, Nebraska
Jemima Catherine Adair (1846-1926)
6 April 1846, Des Moines, Polk County, Iowa, United States
15 April 1926, Murray, Salt Lake County, Utah, United States
Frederick Dickensen Rugg (1843-1918)
Ezra Taft Benson Adair (1848-1848)
25 April 1848, Mt Pisgah, Union County, Iowa
26 April 1848, Mt. Pisgah, Union County, Iowa
Residences
Footnotes (including sources)