1st LDS Bishop for Pine Valley Ward
Co-Captain of Wm Snow/Joseph Young Pioneer Company
William Snow was born 14 December 1806 in St. Johnsbury, Caledonia County, Vermont, United States to Levi Snow (1782-1841) and Lucina Streeter (1785-1858) and died 19 May 1879 Pine Valley, Washington County, Utah, United States of unspecified causes. He married Hannah Miles (1810-1841) 21 September 1832 in Charleston, Orleans County, Vermont, United States. He married Sally Adams (1825-1904) 16 January 1848 in United States. He married Ann Rogers (1834-1928) 13 March 1853 in Salt Lake City, Salt Lake County, Utah.
'Heart Throbs of the West
Heart Throbs of the West, Kate B. Carter, Vol. 1, p. 291
A Tribute - My father, William Snow, was a humble, faithful man and was acquainted with the Prophet Joseph Smith. He loved him dearly. When Joseph taught the principle of plural marriage, father took a second wife, Sally Adams, and was married to her in the Nauvoo temple. Soon after this the Saints were driven from Nauvoo, and father's second wife went with her father's family to Council Bluffs. In leaving Nauvoo, the first wife, Liddie Levitt, died of exposure, leaving two little girls. When father and his two motherless children reached Council Bluffs, his second wife joined him and took care of his family. He remained in Council Bluffs for two years, as each man was required to save enough grain to plant in the land toward which they were bound. In 1850, a company was organized to start for Utah. Brother Snow was made captain of the company. In this company was a young widow, Maria Wines, who had three sons. My father became acquainted with her, and after arriving in the valley, they were married. A few years later he married another widow, Anna Rogers, a lone girl whose sisters had died on the plains.
We called the second wife Aunt Sally. She was a most perfect woman. We lived in a duplex house in Pine Valley, Aunt Sally with her six girls and one boy, and mother with her six boys and two girls. In the evening we would all gather in the backyard and play together, pomp, hide-and-seek, ante-aye-over, and other games. We seldom quarreled. We used to remark that our big family had fewer difficulties than the family where there was one mother and one set of children.
After we were older, father built another home for Aunt Sally, and remodeled the duplex for mother. During this time father moved Aunt Maria to Pine Valley from Lehi, where we had all lived in earlier days. Soon after father was elected county judge, he needed a home in the county seat at St. George, so he moved Aunt Roxanna from Lehi to St. George. Now all his families were in southern Utah.
One strong factor in helping us get along so splendidly was that we all kept busy. The girls knit stockings, and helped with the sewing. Aunt Sally's oldest girl used to spin and weave. We younger ones helped to card the wool bats to put in quilts. I would take my knitting and run into Aunt Sally's or Aunt Maria's, of an afternoon. We did not like to knit alone. We were always neighborly, running back and forth into each other's homes. When we put on a quilt, all the girls of the family would help. The boys hauled the wood, plowed fields, planted and harvested the crops. So we were a busy and happy family.
Father was seventy-two years old when he passed away. In those days, because of loose cattle wandering over the cemetery, people fenced in their graves. So all father's children decided to buy a headstone and place a fence around his grave. We wrote the sons of Aunt Maria. One of them sent five dollars, and wrote, "I am glad to send this money, for I had the greatest respect for my stepfather." — Told by Celestia Snow Gardner to Annie Pike-Greenwood.
Children
Offspring of William Snow and

Hannah Miles (1810-1841)

Name
Birth
Death
Joined with

Levi Snow (1833-1833)




Lucina Snow (1835-1835)




Abigail Dow Snow (1837-1907)




Mason Snow (1841-1841)
Offspring of William Snow and

Lydia Leavitt (1823-1847)

Name
Birth
Death
Joined with

Sariah Hannah Snow (1843-1930)




Levi William Snow (1845-1846)




Lydia Snow (1847-1847)
Offspring of William Snow and Sally Adams (1825-1904)
Name
Birth
Death
Joined with

Julia Maria Snow (1849-1933)



Sarah Sophronia Snow (1852-1927)
4 March 1852 Salt Lake City, Salt Lake County, Utah, United States
5 March 1927 Bountiful, Davis County, Utah, United States
George James Forsyth (1844-1927)


Emma Lucretia Snow (1856-1938)




Chloe Louisa Snow (1859-1936)




Lucy Almira Snow (1861-1944)



Maryette Snow (1863-1942)
14 October 1863 Lehi, Utah County, Utah, United States
18 October 1942 Delta, Millard County, Utah, United States
Hyrum Ozro Gardner (1862-1943)


Warren Snow (1869-)




William James Snow (1869-1947)
Offspring of William Snow and

Jane Maria Shearer (1819-1910)

Name
Birth
Death
Joined with

William Snow (1851-1926)




Maria Lovina Snow (1853-31921)




Erastus Snow (1855-1858)




Mary Lorena Snow (1860-1937)




Mason Levi Snow (1862-1944)
Offspring of William Snow and

Roxanna Leavitt (1818-1881)

Name
Birth
Death
Joined with

Melissa Leavitt Snow (1855-1925)




John Leavitt Snow (1858-1916)
Offspring of William Snow and Ann Rogers (1834-1928)
Name
Birth
Death
Joined with

Willard Snow (1853-1937)



Jeter Snow (1855-1936)
21 December 1855 Old Mud Fort, Nephi, Utah County, Utah, United States
12 November 1936 St. George, Washington County, Utah, United States
Mary Alice Gardner (1865-1954)

Celestia Snow (1859-1959)
12 March 1859 Lehi, Utah County, Utah, United States
13 September 1959 Salt Lake City, Salt Lake County, Utah, United States
John Alexander Gardner (1852-1931)


Charles Snow (1851-1939)




Frank Snow (1863-1912)



Bernella Elizabeth Snow (1866-1952)
26 June 1866 Pine Valley, Washington County, Utah, United States
18 February 1952 Cedar City, Washington County, Utah, United States
Robert Berry Gardner (1857-1949)


Orrin Henry Snow (1859-1948)




George Snow (1871-1874)
Siblings
Residences
Vital records
Pine Valley Gravestone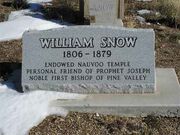 See Also
William Snow

Snow in Caledonia County, Vermont
Footnotes (including sources)