Biography
William Taylor Ritter was born 22 March 1847 in Pueblo, Pueblo County, Colorado, United States to William Christopher Ritter (1824-1875) and Sarah Ann Lowery (1825-1876) . He married Mary Jane Warner (1848-) 1867 .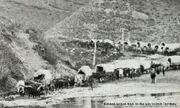 Numbered amoung the participants in the Mississippi Saints 1846 Pioneer Company, a early Mormon pioneer wagon train that left Mississippi in 1846 to join the Mormon exodus to Utah. This group Brigham Young's vanguard company and spent the winter of 1846/47 at Fort Pueblo where the were joined by soldiers of the sick detachment of the Mormon Battalion. They reached Salt Lake City in late summer of 1847.
William and Sarah joined this pioneer company as a young newlywed couple. Their first baby, William Taylor Ritter, was most likely born in March 1847 duting the pioneer company stay over at Pueblo, Colorado.
Marriage and Family
Siblings
Residences
Legacy
See Also
William Ritter

Ritter in Pueblo County, Colorado
Footnotes (including sources)