Lt Merrill Willis was born 16 August 1811 in Shawneetown, Gallatin County, Illinois to Merrill Erastus Willis (1770-1842) and Margaret Susan Cherry (1788-1870) and died 8 April 1872 Beaver, Beaver County, Utah of unspecified causes.
Biography
[
]
William Willis was married to his first cousin, Margaret Willis, 28 Mar 1833, Hamilton County, Illinois. He served as 2nd Lieutenant of Company A of the Mormon Battalion.
Children - Ann Cherry Willis, John Henry Willis, Mary Lucretia Willis, Lemuel Merrill Willis, Thomas Tillman Willis, Josephine Willis, William Wesley Willis, George Albert Willis, Margaret Jane Willis
History - William Wesley Willis was born 16 August 1811 in Hamilton Co, Illinois and in 1833 married his first cousin, Margaret Jane Willis. They joined the Mormon Church and started west from Nauvoo with the main body of the Saints.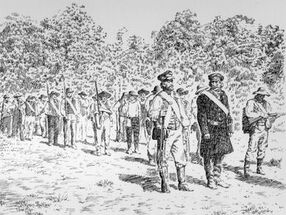 Participant in the march of The Mormon Battalion. This unit of the US Army served in the Mexican-American War and was the only religiously based infantry unit ever created by Presidential order. It consisted of nearly 500 men recruited exclusively from The Church of Jesus Christ of Latter-day Saints (commonly called the Mormons). They undertook the longest infantry march in U.S. military history (as of 1847) and in the process marked out and creating the first continuous wagon road to California which linked the future states of New Mexico, Arizona, and California to the United States. Most members served an initial 12 month term (Jul 1846- Jul 1847) with some members re-enlisting for an additional 12 months afterwards.
He was one of the volunteers in the Mormon Battalion, being 3rd Lieut, under Captain Jefferson Hunt. At Santa Fe, New Mexico, Colonel Cook ordered all the women and children and the men who were unable to travel, back to Pueblo to spend the winter. Later on 10 Nov 1846, Lieut. W. W. Willis was ordered to take the fifty-four sick men of the ranks back to Santa Fe and then on to join the group at Pueblo. Many stories were told of the hardships of this journey and of the heartlessness of the Lieutenant. The whole group arrived in Salt Lake Valley on July 29, 1847, just five days behind the original pioneers.
Utah Pioneer
[
]
The Willis family settled at Big Cottonwood, where they lived until they were called to strengthen the Southern Utah Mission in 1855, where William W. Willis was a millwright and a farmer.
References
[
]
Children
Siblings