This page collects information about people with surname Winslow who were known or believed to have lived in Suffolk County, Massachusetts.
Interested logged-in users are welcome to sign contributions on this article or its Talk page, for ease of contact (four tildes - "~" - or hit the signature button).
Research Notes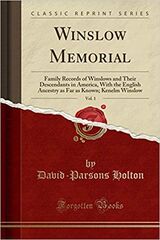 Winslow Memorial, Vol. 1 : Family Records of Winslows and Their Descendants in America, With the English Ancestry as Far as Known; Winslow Family(Classic Reprint) - Tracing family roots of the descendants these early Plymouth Colony settlers back to England.
Individuals or families
See also
Kenelm Winslow Homestead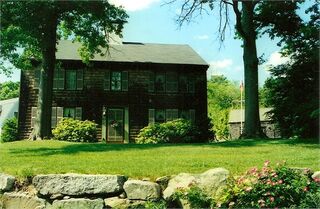 Kenelm Winslow Homestead is settled on a gentle eminence by the sea, near the extremity of a neck of land lying between Green Harbor and South Rivers. This tract of the township was considered the Eden of the region. It was beautified with groves of majestic oaks and graceful walnuts, with the underground void of tangled shrubbery. A few of these groves were standing within the memory of man, but all have now fallen beneath the hand of the woodman.
It would stay with the family for five generations, until their descendants had to flee the country for being loyalists supporters in the Revolutionary War.
External links
:Note, for the following tables, that there may be more than one county or district of this name and that some contributors may have entered a different (possibly shorter and/or ambiguous) name when this one was meant. Search for similar names to get a more complete result. Common abbreviations are "Co." and "Cty", but there may have been no word for "county" (or equivalent) included, or such a word may have been wrongly included.
Familypedia people with surname Winslow in Suffolk County, Massachusetts

Readers can sort columns using the triangles at top.
Born in Suffolk County, Massachusetts
Baptised in Suffolk County, Massachusetts
Married in Suffolk County, Massachusetts
Grouping is for "first marriage", "second marriage", etc as indicated in column headings
|   | Birth place | Baptism place | Wedding1 date | Wedding1 place | Joined with-g1 |
| --- | --- | --- | --- | --- | --- |
| Edward Winslow (1635-1682) | Plymouth, Plymouth County, Massachusetts | | 8 February 1667 | Boston, Suffolk County, Massachusetts | Elizabeth Hutchinson (1639-1728) |
| Edward Winslow (1669-1753) | Boston, Suffolk County, Massachusetts | | 30 June 1692 | Boston, Suffolk County, Massachusetts | Hannah Moody (1672-1711) |
| Elizabeth Winslow (1707-1765) | Boston, Suffolk County, Massachusetts, United States | | 3 May 1733 | Boston, Suffolk County, Massachusetts | Richard Clark (1711-1795) |
| Isaac Winslow (1671-1738) | Winslow Estate, Marshfield, Plymouth County, Massachusetts | | 11 July 1700 | Boston, Suffolk County, Massachusetts | Sarah Hensley (1673-1753) |
| Sarah Winslow (1639-1726) | Boston, Suffolk County, Massachusetts | | 19 July 1660 | Boston, Suffolk County, Massachusetts | Myles Standish (1629-1661) |
| Susanna Winslow (1675-1746) | Boston, Suffolk County, Massachusetts | | 22 November 1722 | Boston, Suffolk County, Massachusetts | John Alden (1663-1730) |
Died in Suffolk County, Massachusetts
|   | Death date | Death place | Birth place | Father | Mother | Joined with |
| --- | --- | --- | --- | --- | --- | --- |
| Edward Winslow (1635-1682) | 19 November 1682 | Boston, Suffolk County, Massachusetts | Plymouth, Plymouth County, Massachusetts | John Winslow (1597-1674) | Mary Chilton (c1605-1679) | Elizabeth Hutchinson (1639-1728) |
| Edward Winslow (1669-1753) | 1 November 1753 | Boston, Suffolk County, Massachusetts | Boston, Suffolk County, Massachusetts | Edward Winslow (1635-1682) | Elizabeth Hutchinson (1639-1728) | Hannah Moody (1672-1711) |
| Elizabeth Winslow (1707-1765) | 22 August 1765 | Boston, Suffolk County, Massachusetts, United States | Boston, Suffolk County, Massachusetts, United States | Edward Winslow (1669-1753) | Hannah Moody (1672-1711) | Richard Clark (1711-1795) |
| John Winslow (1597-1674) | 1674 | Boston, Suffolk County, Massachusetts | Worcestershire, England | Edward Winslow (1560-1620) | Magdelene Oliver (1566-1631) | Mary Chilton (c1605-1679) |
| Mary Winslow (1628-1663) | 28 October 1663 | Boston, Suffolk County, Massachusetts | Plymouth, Plymouth County, Massachusetts | John Winslow (1597-1674) | Mary Chilton (c1605-1679) | Edward Gray (1629-1681) |
| Sarah Winslow (1639-1726) | 1726 | Boston, Suffolk County, Massachusetts | Boston, Suffolk County, Massachusetts | John Winslow (1597-1674) | Mary Chilton (c1605-1679) | Myles Standish (1629-1661) + Tobias Payne (1634-1666) + Richard Middlecott (1640-1704) |
| Susanna Winslow (1675-1746) | 1746 | Boston, Suffolk County, Massachusetts | Boston, Suffolk County, Massachusetts | Edward Winslow (1635-1682) | Elizabeth Hutchinson (1639-1728) | John Alden (1663-1730) |
Buried in Suffolk County, Massachusetts