Jurassic World: Dominion Dominates Fandom Wikis - The Loop
Play Sound
Zemira Palmer was born 9 August 1831 in Frontenac, Quebec, Canada to George Palmer (1795-1833) and Phoebe Draper (1797-1879) and died 22 October 1880 Orderville, Kane County, Utah of unspecified causes. William I of England (1027-1087), Hugh Capet (c940-996), Alfred the Great (849-899)/s, Charlemagne (747-814)/s, Henry II of England (1133-1189)/s, Hugh Capet (c940-996)/s, William I of England (1027-1087)/s, Rollo of Normandy (860-932)/s.
Zemira served in the Mormon Battalion at age 15 as personal aide to the Battalion Commander. His mother Phoebe Draper (1797-1879) joined also as laundress/cook for Co A and his step-father Ebenezer Brown (1802-1878) was a sergeant in Co A.
Biography
Zemira has a fascinating life story interwoven with the early history of the LDS Church. They were a witness to key events in Kirtland, Missouri, Nauvoo, Mormon Battalion, and throughout Utah. The best source is the family history blog here at : Zemira Palmer Blogspot -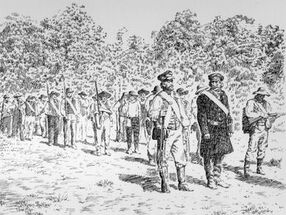 Participant in the march of The Mormon Battalion. This unit of the US Army served in the Mexican-American War and was the only religiously based infantry unit ever created by Presidential order. It consisted of nearly 500 men recruited exclusively from The Church of Jesus Christ of Latter-day Saints (commonly called the Mormons). They undertook the longest infantry march in U.S. military history (as of 1847) and in the process marked out and creating the first continuous wagon road to California which linked the future states of New Mexico, Arizona, and California to the United States. Most members served an initial 12 month term (Jul 1846- Jul 1847) with some members re-enlisting for an additional 12 months afterwards.
Children
Offspring of Sally Knight (1836-1916) and Zemira Palmer

Name
Birth
Death
Joined with
Alma Zemira Palmer (1853-1925)
12 June 1853 Provo, Utah County, Utah, United States
25 January 1925 Mesa, Maricopa County, Arizona, United States
Alzada Sophia Kartchner (1858-1936)

Mary Palmer (1855)

Martha Palmer (1855)

Lydia Amelia Palmer (1856-1896)
20 January 1856 Provo, Utah County, Utah, United States
10 August 1896

Galeana

,

Galeana County

, Chihuahua, Mexico
John Christopher Kartchner (1851-1946)
Phoebe Palmer (1858-1936)
18 February 1858 Provo, Utah County, Utah, United States
15 August 1936 Salt Lake City, Salt Lake County, Utah, United States
Mark Elisha Kartchner (1853-1939)

James William Palmer (1860-1931)

George Asael Palmer (1862-1938)

Jesse Milo Palmer (1864-1909)

Emma Palmer (1867-1947)

Newell Knight Palmer (1870-1932)

Joseph Palmer (1874-1961)

Chloe Palmer (1878-1916)
Siblings
References
Residences
Footnotes (including sources)